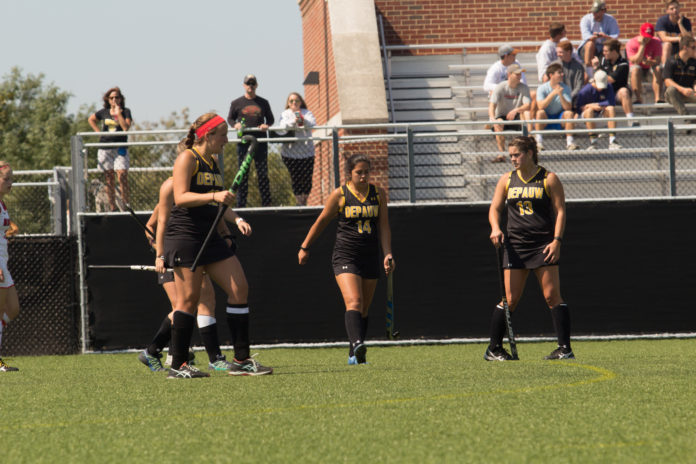 On Saturday, the Tigers went to Granville, Ohio for the first matchup of conference play against the Denison University Big Red. This was an important early season bout as DePauw was picked earlier as preseason favorites to win the conference, while Denison was picked to finish second.
Senior forward Reilly Bruce opened the scoring for the Tigers, finding the net in the twenty-first minute of action. Junior midfielder Rose Revolinski added another goal for DePauw about 30 seconds before the clock ran out, giving the Tigers a 2-0 lead heading into halftime.
Denison scored the first goal of the second half quickly, but any momentum was quickly erased as Revolinski added her second goal of the game less than two minutes later. DePauw senior forward and midfielder Tori Wittemann put the nail in the coffin with a goal in the 49th minute, giving DePauw a 4-1 lead.
That score would turn out to be the final as the Tigers opened the conference season with a statement win.
On Sunday, the Tigers returned to campus for their home opener against a perennial contender in Rhodes College.
In the early going, each team played aggressively as it appeared an even match. After eighteen minutes of solid defense by both teams, Rhodes' Mackenzie Busby finally snuck a shot past DePauw junior goalie Sarah Foye on a deflection, giving the Lynx a 1-0 lead. The goal seemed to energize the visitors and they were able to put two more goals in the back of the net to extend the lead to 3 by halftime.
DePauw came out in the second half even more aggressively with the ball, but couldn't finish around the net.
"I think [the shots] were all there but [Rhodes] just capitalized more than we did in the circle," said Bruce shortly after the game. "We needed to respond with a goal ourselves, and that just didn't happen."
Rhodes struck again in the 56th minute and again in the 64th making the score 5-0. This score would hold despite DePauw's best efforts down the stretch to make a comeback.
After the split weekend, DePauw is now 2-2 (1-0). They will continue their conference season next week with two home games against Kenyon College and Ohio Wesleyan University.