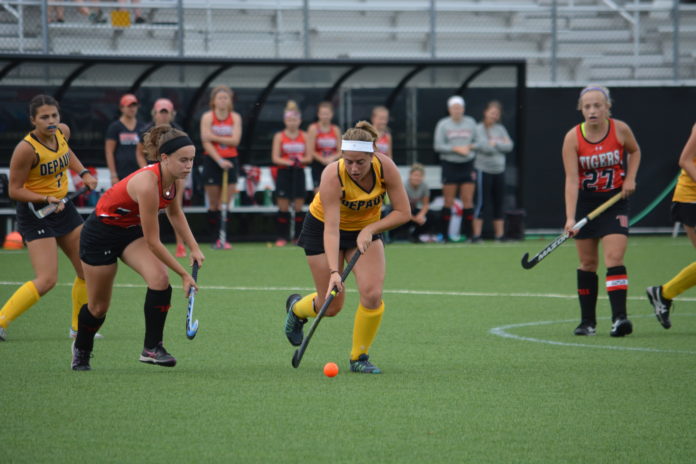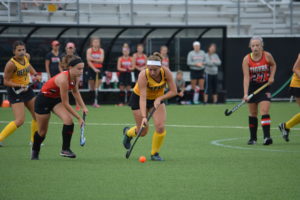 This weekend the field hockey team clinched their seventh NCAC tournament berth by defeating Oberlin College 9-0 and The College of Wooster 2-0. The win over Oberlin saw eight different players score goals.
"It's a proud moment to be able to come together and qualify for the postseason," said Head Coach, Erika Dombkowski. "Many teams end their season with the last regular season game, so we understand that a lot of hard work and investment in each member of the team is what is needed to make it this far. We do not take it for granted."
The team mentality is an important part of the Tigers' success, something Dombkowski says makes them "the strongest team I've ever been part of."
First-year, midfielder, Catherine Zesiger agreed.
"Saturday was especially great because so many people scored and to contribute in a positive way, and both goalkeepers got a shutout on both days," said Zesiger who is excited to continue her first season at DePauw in the playoffs. "We played our game and had a lot of fun doing it… Despite a few conference games that didn't turn out the way we wanted, it's exciting to have this opportunity to prove ourselves."
However, they still have two games remaining this season, which is important preparation going into the postseason. Dombkowski says these games "will affect seeding in the tournament, but more importantly, however way it goes, will be a lesson and a preview of what the competition will be like in the postseason."
The Tigers have played both Earlham College and Wittenberg University earlier this season, beating Earlham 3-0 and losing to Wittenberg 0-3.
"The focus is to take it game by game. We can't focus on the tournament that we aren't playing it yet. When that time comes, then we will," said Dombkowski. "It's always part of the big picture goal, but we must accomplish our goals with the next two teams we face by beating them and go into the games confidently and make necessary adjustments."
The Tigers will play at Wittenberg Thursday night and at Earlham on Saturday in their lead up to the NCAC tournament.