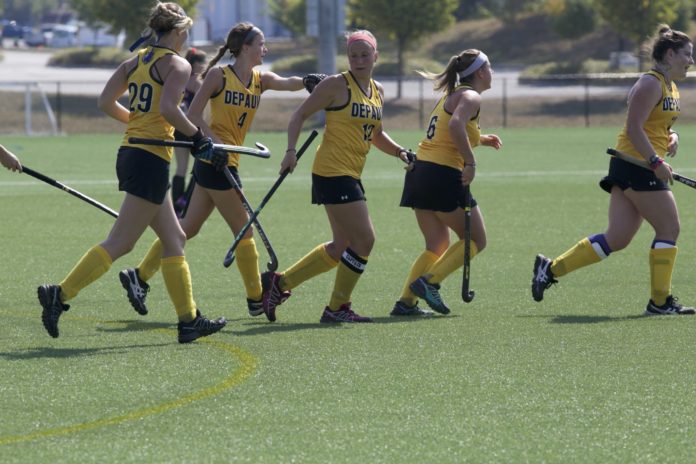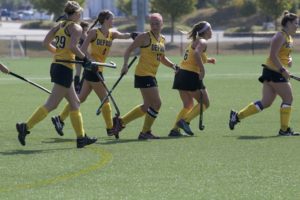 After a tough loss in last season's NCAC Championship to Kenyon College at home, the Tigers (11-7, 9-5) have their eyes on their second title in three years heading into the first round of tournament play later today at Denison University (15-3, 12-2).
"Denison is a good team, and I think we're getting the win tomorrow," senior forward Paige Berliner said yesterday.
Berliner helped DePauw end its regular season on a high note with a two-goal performance in the Tigers' 3-2 victory over host Earlham College on Saturday.
Despite the win, the Tigers have encountered their fair share of adversity throughout the year. After stumbling out of the gates to start the season by going 2-3, DePauw recovered with a five-game win streak, only to be swept at home by Denison and Wittenberg University the following weekend.
"All seasons have high and lows… but I think a lot of the time, we've been just overall a really good team," Head Coach Erika Burcher said. "It teaches us that it's not going to be given to us all the time."
DePauw will enter today's NCAC Tournament as the number four seed against the Big Red, a team the Tigers easily handled in September but later fell to at home in early October.
"All college field hockey is passing and receiving at a really high level," said Burcher. "We need to be taking smart shots on the goal and be composed throughout the entire game. Because at this point, our team is super smart."
Burcher was impressed this weekend with the team's play calling. The Tigers called their own corner and scored a goal without Burcher in their final home game against the College of Wooster, proving they were ready for the next step.
"That shows me they've learned everything they need to know at this point in the season, so they're totally prepared for (today's) game," Burcher said.
Regardless of how the Tigers fare in postseason play, Burcher admits she isn't ready to let go of her talented senior class, which includes forward Paige Berliner, forward/midfielders Reilly Bruce and Tori Wittemann, and defenders Grace Waldman and Maddy Burds.
"I think all the seniors are excited and nervous going into the tournament," said Berliner. "You don't have another year if things don't turn out the way we want."
The matchup is set for today at 3 p.m. DePauw will look to thwart Denison's bid for an 11th tournament title.