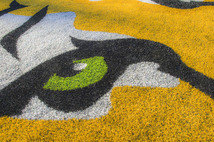 Questions:

On a sunny day, you'll find me…

Worst purchase of the year:

If Little Five week could add one contest, it should be…

TV show you've been meaning to watch:

Noah Boyce, track, sophomore
Hammocking in my short shorts with my team.

Double American from Cafe Roy at 9:30 p.m.

Best sunglasses tan line competition

"Santa Clarita Diet" so my mom stops telling me to watch it.
Megan Montgomery, softball, utility, senior
Hiding in my room, probably watching Netflix, before practice.

All my purchases have been on food....so probs purchasing Don's.

Competitive eating contest...girl's gotta eat.

"The Alienist;" it's kinda dark and brooding...but it's not on Hulu or Netflix so I'm out of luck.
Sam Comer, baseball, pitcher, senior
Outside bumpin Yachty.

Gucci Flip Flops.

Unicycle sprints.

"American Vandal."
Natalie Gruszka, track, sophomore
Doing homework outside.

Handwarmers for practice in April.

Who can stay in an ice bath the longest.

"Game of Thrones" so I can see if it's worth the hype.