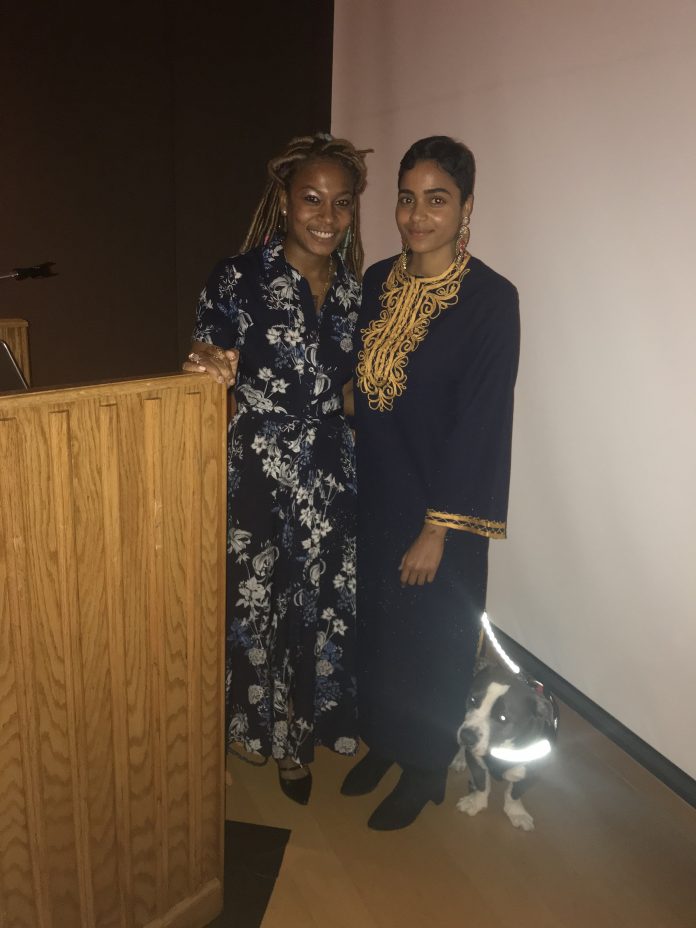 DePauw alumni Kareen Dillon '12 and Naiomy Guerrero '12 came back to DePauw to talk about their contributions to the representation of Black and Latinx art within the art world.
"I went to the lecture because what Naiomy and Kareen were presenting on is important to the world, especially the art sphere," says senior Bri Douglas.
Dillon discussed how in college she was not comfortable with the lack of African American representation both on campus and within Greencastle. This lack of representation pushed her to become an art teacher. She now teaches kindergarten through fourth grade where she helps her "scholars" figure out who they are with art.
In her class, she teaches students to think about art they are shown, listing what they see, what they think about and why. In addition, she helps them express themselves with art. Dillon explains that with the media and how black people are perceived, helping her scholars express themselves is a key element to her teaching.
Guerrero's story is similar in the sense that she does not see many representations of people of color, and this extends to the art world. Guerrero started a website called "gallerygirl.nyc" to document her visits to museums. She would explain her visits in both English and Spanish as a way for more people to share in the experience.
In addition to archiving her museum visits, she also worked at numerous museums where she conducted research. Guerrero witnessed how museums treat artists that are people of color, who are typically not as displayed or "prefered" in comparison with white artists and their work. During her talk, she emphasized that museums are not neutral as they are controlled by those with money. At the end of her talk, Guerrero expresses her gratitude to professor Catherine Fruhan who had passed, Guerrero's dear friend and mentor.
The lecture showed the students of DePauw how alumni have made an impact in the world by doing what they love.
"I wanted to learn more about Black and Latinx culture within the art world, and how expressive the arts can be. It was something that began to intrigue me as I have been studying art and activism here," said first-year Julie Juarez. "Especially now with all the issues in our world having to do with race and inequality, it was important to hear more about an unfamiliar form of racism or the underrepresentation of Black and Latinx communities in the art world."
"I went because what Naiomy and Kareen were presenting was important in the world, particularly the art sphere, today," said Douglas. "They are also wonderful, intelligent women that I wanted to hear as much as I could from. I absolutely found this important, I think Naiomy spoke about some very incredible and impactful things concerning the art world and museums."
Coming to these lectures shows students that they can do what they love and still make an impact on the world, like Guerrero, and make a difference in someone's life, like Kareen.