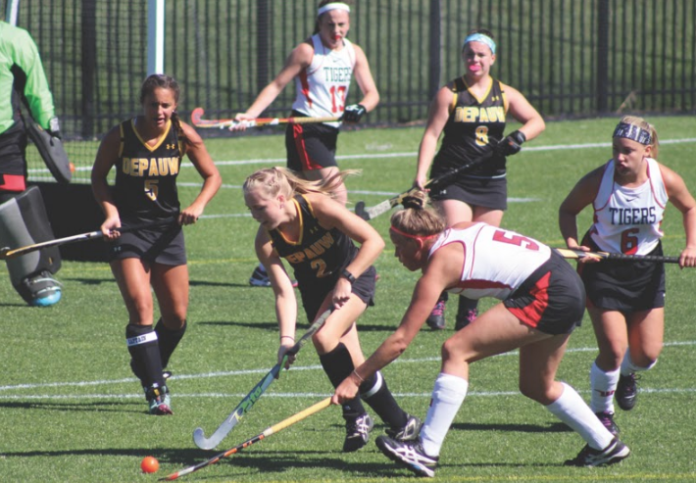 The Tigers improved to 5-3 this weekend with wins over Oberlin College (2-1 OT) and the College of Wooster (4-0). Saturday's game against Oberlin proved to be a tough test for the Tigers as they went into overtime.
"In the game, we played a very offensive game with many shots on goal," said senior forward/midfielder Reilly Bruce. "Our defense barely let any balls get into our defensive 25. We had many opportunities to score the ball, so it was good that we finally capitalized on a corner."
Senior forward Paige Berliner scored early in overtime to seal the victory.
"It only took us a few minutes to get the ball to our offensive end and were able to get a goal almost immediately," said Berliner. "We've been working on this during practice, so I think we were very prepared going into this overtime period."
The fruit of their effort showed as the Tigers came out with the victory. The Tiger's followed that winning momentum through to sunday when they faced off against Wooster.
The game against Wooster showed the team building on their success from the previous day. They had a great performance against the Fighting Scots with goals from junior midfielder Rose Revolinski, first-year midfielder Cathy Zesiger, and two goals from sophomore forward Kate Milner.
"The game against Oberlin really prepared us for the game against Wooster. We take each game one by one, focusing on the next task at hand," said Berliner. "Playing on Saturday and Sunday gives us the opportunity to fix some of the problems we have on Saturday in our Sunday games."
The Tigers did just that by improving to 5-3 this weekend. They continue next weekend as the Tigers host Centre College and Earlham College while looking to build on their recent success.