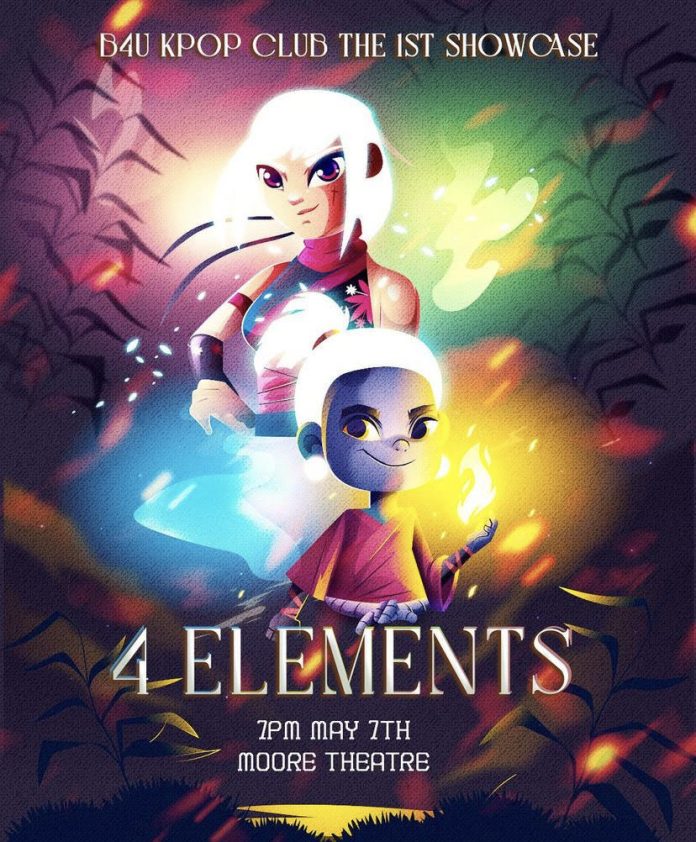 Showcasing a captivating ensemble with a vibrant musical catalog, DePauw dance groups B4U and X-Cell performed during the 2023 Art Walk at the Moore Theatre of the Green Center of Performing Arts (GCPA) on April 29. As two of the university's most beloved dance teams, I decided to immerse myself in their hefty preparation for their highly-anticipated evening performances.
B4U's Bubblegum-Colored Repertoire 
Upon entering the GCPA, I was greeted by a group of B4U members knocking on the locked door of Moore Theatre, holding a stack of tall metal chairs. When a team member finally let us inside, I was mesmerized by the sight of pure joy and youthfulness. In the corner, two friends rehearsed their steps while watching K-Pop idols on their phones. Meanwhile, executive members tested the stage speakers, replaying their setlist with four girls bobbing their heads to the beat.
"[For our performance], we're mainly focusing on a 'bubblegum' theme—a colorful and cheerful vibe," B4U president Joey Ngo said. "Everyone's going to wear colorful clothes, and you can tell from the songs that we want to bring everyone happiness during Art Walk."
It's hard to deny the connection between the members who were teaching each other the choreography, laughing over a forgotten position or a wrong flick of an arm. A member even handed me their phone to record their rehearsal, with their infectious smiles making it impossible for me to refuse. Yet their bubbly personalities eventually transformed into sheer focus upon joining the main ensemble, a perfect synchronization created through their shared love for K-Pop. 
"Our club practiced [here at the theater] last year for Art Walk already, but for new members, it's their first time," Joey added. B4U's growth throughout the past year was fascinating to witness—from their color-coordinated performance in front of Hoover to their International Bazaar showcase in the Union Building living room. Now, they were preparing for their most-awaited production for the 2023 Art Walk. 
"We're still full-time students. We're not professional dancers," Joey highlighted. "[But] when we all come to the practice room, that's the only time you don't need to think about stressful schoolwork, tests, or your internship…we just need to practice, have fun, and suck together."
X-Cell's Enigmatic Narrative
With collage-like posters and creative videos spread across their social media pages, X-Cell developed a mystery narrative in collaboration with the Elite Precizion Step Team and The Heat Majorette Team to advertise their upcoming Art Walk performance. The narrative was built upon the "abduction" of one of their team members, with their trailers emphasizing a yellow handkerchief hanging upon the dance room railing, along with a monochrome image of a member covered by a paper blindfold.
"[I love] being able to transform dance into videos to be posted to our social media," Steeve Nsangou, X-Cell's content creator, said. Aside from producing online content, Steeve also engaged with the choreography preparation of the team. Despite not being an onstage performer this semester, he aimed to be present for between 30 minutes to an hour for each practice day of the week. 
"The rehearsal process consists of a little bit of things like non-showcase scheduling as well as showcase scheduling. So non-showcase scheduling usually looks like, you come in, you do a check-in and you stretch, then you spend the next hour and fifty minutes learning a new dance or so. But this week is known as what we call 'hell week'...and that features a lot more practice times," Steeve said. Due to the members' busy class schedules, he emphasized how the group minimized the addition of new choreography and focused on perfecting their formations and stage presence.
Moreover, he elaborated on X-Cell's friendly atmosphere during practice sessions, an experience he misses as a previous performer for the group. "I would say it's very warm and fond like, that's one thing I realized I missed this semester not being with them. I spent a lot of time with two executive members, but when I was with [the team], they were literally eating food together…laying on the floor sleeping, it's like that. I guess it's like you spend so much time together that a close bond truly forms."
A Musical Culmination
After weeks of arduous rehearsals, it was finally time for DePauw's dance powerhouses to grace the Moore Theatre stage.
Sporting colorful denim jackets, printed sweaters, bunny ears, and plaid tops, B4U captured the hearts of the audience through their performances of NewJeans' "OMG," SEVENTEEN's "Pretty U," and H.O.T.'s "Candy." With friends screaming out the names of their favorite members, the dance group embellished the theater with neon confetti, creative musical sequences, and smiles from ear to ear. 
Meanwhile, beneath coruscating cerulean and apricot spotlights, X-Cell enraptured viewers with their graceful stamina, expressive storytelling, and sharp moves. Through the tight-knit dynamic of the team, the entire theater erupted into applause as they concluded their performance with a tribute to their senior members, who left an unforgettable legacy in DePauw's dance history.
With more performances to anticipate for the next academic year, these dance groups will continue to inspire the next batch of aspiring performers who will paint the stage with newfound energy and confidence, bringing the DePauw community closer one step at a time.