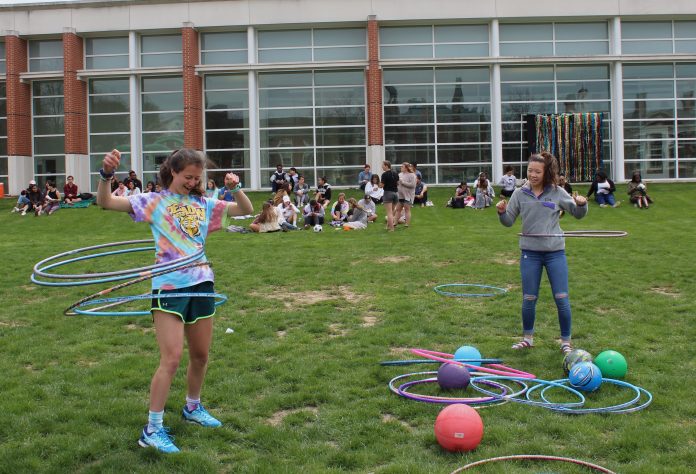 Rainbow flags, boas and feather headpieces decorated students' shoulders at the DePride and Carnival celebrations last Saturday.
The DePauw community came together to celebrate the events, which were funded by the Center for Diversity and Inclusion (CDI). The event included a performance by XCell, music, games, a buffet, gyro food truck and bounce house.
Along with these, students and community members spent time hula hooping, painting stones and participating in water gun fights. Senior Laurel Tilton, a member of United DePauw, said that planning for DePride began as early as last semester.
The second annual DePride was hosted by Queer Students of Color (QSOC), United DePauw and the CDI. This year, the Caribbean Students Association (CSA) paired their celebration, Carnival, with DePride.
Jazmine Kerr's parents are from the Caribbean and she attended Saturday's festivities for DePride x Carnival. "I loved the celebration, and I think it is important to highlight marginalized communities on this campus," Kerr said. "I think a lot of times we exclude people of color from queer events, which is why spaces like QSOC are important."
DePride took place in Bowman Park, visibly placing it in the middle of campus. "Pride events on campus serve as important reminders of the presence of the Queer community at DePauw and of the active advocates who support our community," senior Zoe Collis said. "[Pairing] DePride and Carnival was aimed to bring the entire DePauw community together."
Senior Emma Baldwin agrees that the combination of DePride and Carnival is what made this event even more inclusive. "Especially with everything that has been going on around campus, having a day where everyone can come together to celebrate our differences was much needed. It was incredibly well executed, fun, and hopefully opened the eyes of many people at DePauw."
DePride x Carnival included information booths from Putnam Pride initiative, The Damien Center and Brothers United. The Damien Center booth offered free HIV testing in Julian. "Accessibility to testing and sexual health materials is incredibly important because oftentimes queer individuals do not receive adequate (or any) sexual education geared towards queer sex in high school/middle school," Tilton said.
DePride x Carnival was open to all students and Baldwin appreciated the opportunity for unity that the event gave. "It's incredibly important for those not part of the LGBTQIA+ community to attend these events to break stereotypes, encourage inclusivity, and to provide support regardless of what you identify as," Baldwin said.
Kerr enjoyed that the event brought the DePauw community together. "The celebration highlighted the fact that multiple people can come together regardless," Kerr said, "additionally, it was definitely needed."