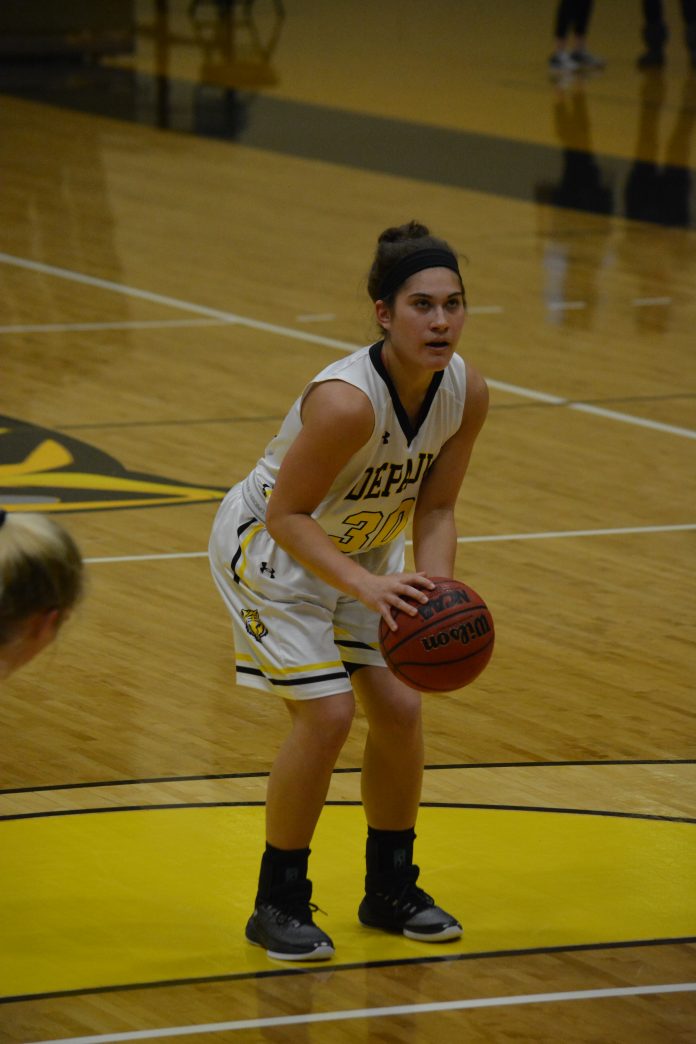 Senior guard Maya Howard of the DePauw women's basketball team drove around three University of Wisconsin-Oshkosh defenders and hit a running layup with 9.3 seconds left to tie the game at 52-52 in the NCAA tournament Sweet Sixteen.
This was the first time the game was tied since 0-0, as Wisconsin-Oshkosh had lead for the entire game. Wisconsin-Oshkosh then called a timeout, which allowed them to get the ball at half court. Nikki Arneson retrieved the in-bounds pass and banked in a jumper with 1.3 seconds remaining to take the lead.
Head Coach Kris Huffman then called a timeout to draw up the Tigers' last play. The in-bounds pass went to sophomore Claire Keefe underneath the basket, but the ball rolled off the rim as time expired, giving Wisconsin-Oshkosh the 54-52 win and a trip to the Elite Eight.
Wisconsin-Oshkosh led by as much as six points in the first quarter, but two Maeve Summerville free throws cut the lead to three points at the end of the half, as DePauw went to the locker room down 25-28 at the intermission.
The third quarter mostly belonged to Wisconsin Oshkosh, as they used an 8-0 run to extend the lead to ten points midway through the quarter, the highest the lead would be the entire game. A sophomore Hayley Cange three-point play stopped the run, but the Tigers still trailed by seven points going into the final quarter.
Led by six points from Keefe and five points each from Howard and Junior Sydney Kopp, DePauw climbed their way back, climaxing with Howard's game-tying layup in the final seconds.
DePauw was led by Keefe who had 18 points and 11 rebounds, while Howard scored 12 points with a team-high three assists. Wisconsin-Oshkosh had even scoring across their team, as no player scored more than 12 points for them.
This was the final game for Howard, who will leave the program as DePauw's all-time leading scorer, as well as top-five in assists and steals. She was recently named North Coast Athletic Conference Player of the Year for the second straight year and also a finalist for the Jostens Trophy, which goes to the most outstanding player across all of Division III women's basketball.
The team next year will be led by Kopp, who was first team all-NCAC this year and Keefe, who was second team all-NCAC. Howard is the only senior on the roster.
The team finished the year with a record 25-5. Wisconsin-Oshkosh moves on to face Wartburg College in the Elite Eight next weekend.