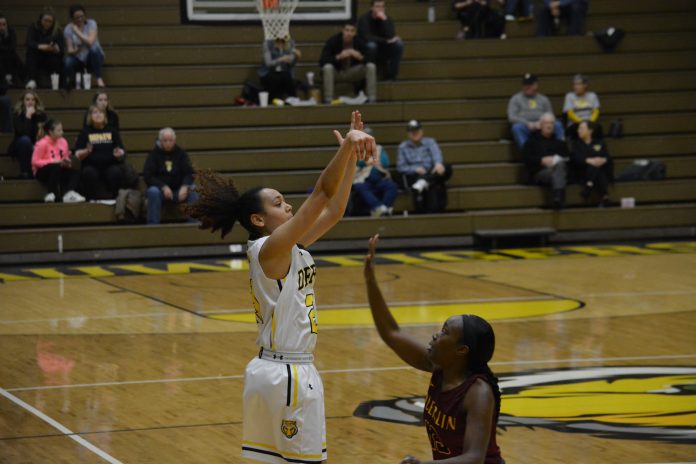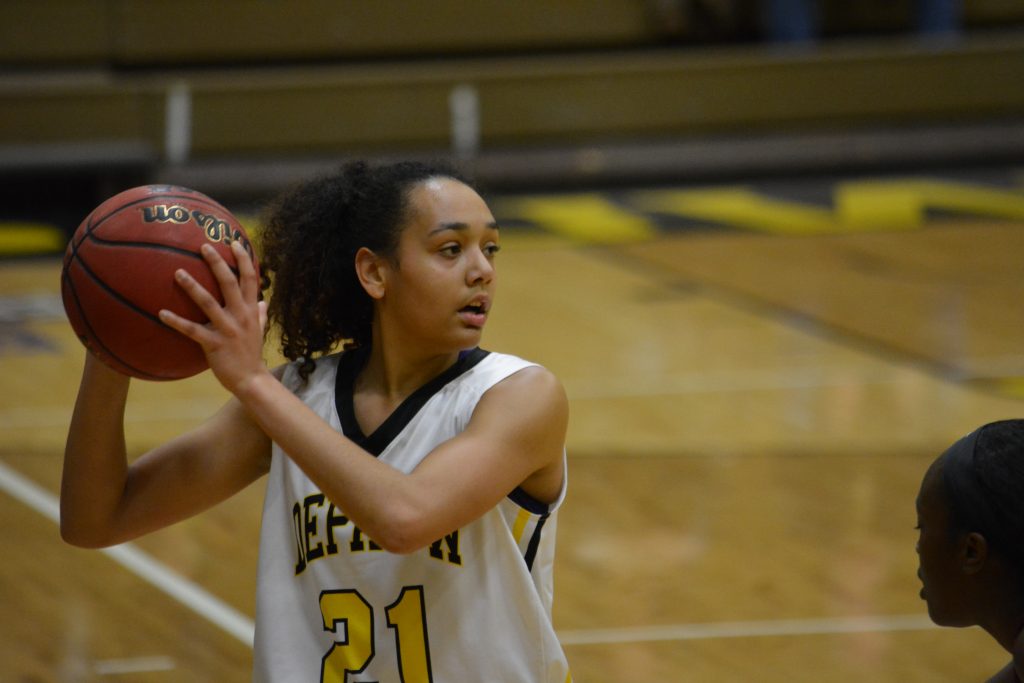 In the middle of the first quarter of Saturday's game against College of Wooster, senior Maya Howard dashed through the lane for a floater to score her first two points of the game.
Later, a kick out to her for a deep jumper gave her four points.
Then, a pick and roll forced Wooster's center to switch on her. Howard's eyes lit up, as they normally do when she sees a mismatch. Howard ripped past her and was fouled while driving for a layup, sending her to the line for two free throws.
Suspense filled the gym, the only noise being soft shuffles from fans pulling phones out to take videos in anticipation.
She nailed the first free throw, giving her 1,481 career points, the most in DePauw history.
Breaking a school record is typically a time when it's acceptable to stop play and allow the crowd to stand and cheer. Give the player time to soak in the moment. Not for Howard. Howard didn't even glance to the stands to see the hundreds of fans cheering her name. She wanted the ball so she could shoot her second free throw.
Teammates and coaches say this is typical of Howard. She's a player that treats basketball like business, no accomplishment or accolade more important than team success. This is why she didn't want to make the moment about herself; they still had a game to win.
***
Maya Howard began playing basketball when she was just old enough to walk. She would go to gyms in St. Louis, Missouri and play with the older boys, using men's sized balls and playing on 10-foot hoops.
"It would take all my strength to just get it to the rim," Howard said.
She loved basketball so much that she wouldn't stop playing it even when she was home. She recalls lying in bed every night shooting the ball in the air toward the ceiling and catching it, making sure it rolled off her fingers correctly.
Howard's game excelled in high school when she led her high school, Mary Institute and Saint Louis Country Day School (MICDS), to back-to-back state championship appearances. She caught the eye of several Division I schools who could offer her athletic scholarships, but she wanted to come to DePauw.
"I saw the success DePauw had in basketball, but I wanted a place where I could really balance school and basketball. That's why I wanted to go to DePauw," she said.
Head Coach Kris Huffman knew they were competing with bigger schools for Howard, but Howard's visit during her senior year went so well that they knew they had a shot.
"You could just tell it clicked for her when she was here," Huffman said.
Howard has been a major contributor since her first year, when she earned the North Coast Athletic Conference (NCAC) Newcomer of the Year award, d3hoops.com Great Lakes Region Rookie of the Year and second team all-NCAC honors. She averaged 10 points per game.
Her game evolved the following year as she improved her points and assists per contest and was named first team all-NCAC. Last year, she established herself as the best player in the conference and one of the best players in the nation. She was named NCAC Player of the Year, d3hoops.com first team all-Region, and d3hoops.com honorable mention all-American, while averaging an NCAC best 15 points per game.
Despite scoring more points than any other player in school history, her scoring does not do justice to her impact. She directs the game when she is in, controlling the pace and distributing the ball unpredictably across the entire floor.
Defensively, she's a menace that doesn't allow opposing point guards to have control. Her length allows her to get her hand in passing lanes and her quickness stops any penetration from the perimeter. She will end her career in the top-10 of career assists and steals in school history.
"She's our all-time leading scorer, yet after every game, she never asks how many points she scored," Huffman said. "She asks how many assists, and how many turnovers she had."
Possibly more important than all of that is her leadership. She's not the stereotypical, in-your-face leader you see on television. She's calm, often bringing younger players aside to teach them a skill, instead of in front of a crowd. She puts on a show with stepback jumpers, crossovers, and no-look passes that leaves crowds oohing and aahing, yet she's humble and quiet on the court.
Huffman remembers a couple practices earlier in the year when Howard missed time because of an injury. She was at every practice and meeting with a whiteboard and marker. She'd run up to players during practice and scribble in marker what they could do better.
"When Maya talks, everyone listens," Huffman said.
DePauw's women's basketball program is one of the best in the country. They've won six of the last seven NCAC championships, qualified for the NCAA tournament for 15 straight years and won national championships in 2007 and 2013. Dozens of historic players have put DePauw jerseys on, yet Howard may be the best of them all.
"She definitely top-five. At least," Huffman said.
There's one thing missing from Howard's resume: a national championship. The 19th-ranked squad is led by Howard, but all-NCAC guard Sydney Kopp is a scoring machine, and 2018 NCAC Newcomer of the Year Claire Keefe is a two-way force in the paint. They can go 12 players deep on any given night, giving them more depth than most competitors. There's no limit on what this team can achieve.
Of course, the team will only go as far as Howard takes them. She's the only senior on the team, so she's the only player that's facing the inevitable finale of their career. This isn't pressure to her, but motivation.
"A national championship is what we've worked toward for four years," Howard said. "Actually, I just love basketball. My goal is to keep playing it for as long as I can at DePauw."