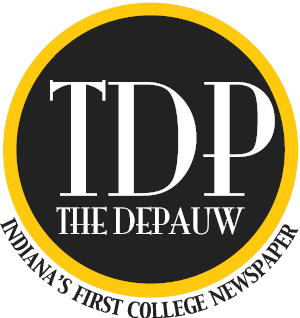 The party is over at DePauw University according to The Princeton Review's Top 20 Party Schools List.
After six consecutive years on the list, the University has been removed for 2016.
"I don't think we ever belonged on that list," said Mark McCoy, DePauw's president.
Alan Hill, vice president for student academic life and a DePauw alumnus, said he doesn't understand why DePauw had ranked on previous lists. "Is it a party town? No. It's a quaint, little place," said Hill.
The Princeton Review, a for-profit corporation which has no affiliation with Princeton University, offers test preparation and tutoring services as well as college rankings for an array of topics. DePauw debuted on the Top 20 List in 2009 at 15. In past years, DePauw stayed at around that level and was listed at 14 for 2015.
Greencastle's small population and Depauw's quaint environment differs from other campuses on the 2015 list, whether the New Orleans party atmosphere of Tulane University (No. 9) or the large student population at the University of Wisconsin at Madison (No.1).  Some on campus have questioned why The Princeton Review would actually consider the University as a nationally-recognized party school.
Some students believe that the small size of Greencastle, which has slightly more than 10,000 residents, may be a reason for the heavy party culture because there isn't a lot to do outside of campus. Thus, students may prefer to stay on campus and drink. However, Hill disagrees with this notion of using the town size as an excuse. "To blame the greater Greencastle community for the behaviors related to being a 'party school,'" said Hill, "I don't agree with that."
Hill said he believes the rigorous academics at DePauw have always created a challenging environment for students and, with this intense atmosphere, students can often feel the need to release some of their stress through the consumption alcohol.
Hill said he believes the University is more well known for having a rigorous academic culture that still does allow students to have fun. "DePauw has always been a work hard, play hard type of institution," said Hill, "When you are on a list, there is often inspiration to work towards that reputation, and I don't know if that's always intentional."
DePauw also consistently ranks as one of the "frattiest" universities, according to The Princeton Review, but Hill said he doesn't believe it's fair to blame the Greek system for the overall party culture of the University, even though it represents almost 70 percent of the student body. "With a high percentage of Greek population, they sometimes are the ones blamed for the reputation of the entire college," stated Hill, "It's all of the students in our community that are responsible for their behaviors and actions as citizens on campus."
President McCoy also agreed that the party scene at DePauw isn't as wild when compared to other universities. "I've heard from DePauw students going to parties at other schools that stated that the parties there were borderline riots," said McCoy.
According to a 2014 federal survey, almost 60 percent of college students ages 18 to 22 drank alcohol in the past month, and almost two-thirds of them engaged in binge drinking during that same period.
"I think this is an opportunity for us to remind ourselves that far too many weekends during the school year in America, somebody is injured or dies because of partying in an unsafe way," said McCoy, "I'm not anti-party. I went to college; I partied; we all partied, that's okay. But we want to party in a safe way that looks out for ourselves and for our community."
The administration has made an effort to educate students and offer programs so they make smarter decisions both in their academic and social lives. In new student orientation, DePauw staff addresses the repercussions of irresponsible drinking. "The institution has offered many leadership positions and clubs that have tried to balance this whole thing out in terms of recommitting ourselves to being an excellent academic institution that challenges its students," Hill said.
McCoy said he doesn't place much stock in the list or how DePauw could have avoided it. "What tends to happen, in a cynical view of this, is that schools cycle on and they cycle off. Eventually it will cycle back to DePauw being back on," said McCoy, "Meanwhile, things at DePauw haven't changed. It's just the DePauw that we know. I can't find any rhyme or reason to it."
In 2013, following release of the list, Cindy Babington, then vice president for admission and financial aid, concluded a letter written to the DePauw community by asking for help from the alumni to "ensure that the world understands the true DePauw we know."
Hill said he believes the campus is one that challenges students to excel, not how much beer or liquor they can consume while tailgating on Saturday mornings. "Those that know DePauw know it to be a tremendous place that changes lives," he said, "Even though we have been on that list, I don't think that the list is the first thing that comes to mind as people contemplate the education that they received and what it has allowed them to do now."
In years prior, faculty and staff had negative views about DePauw being on a party school's list as being a blight on the campus. Hill takes pride in DePauw being taken off the list. "I think it's fantastic that we're not on the list. I would hope that we can continue to educate our community and our alumni base so that we're not known consistently as a big time party place," said Hill.
McKenzie Allaben, a junior, said she was unconcerned about the list. "I am indifferent about DePauw being taken off the Princeton Party List. I think a person's college experience is what they make it," said Allaben, "A party list shouldn't define a person's college choice or their college experience altogether."