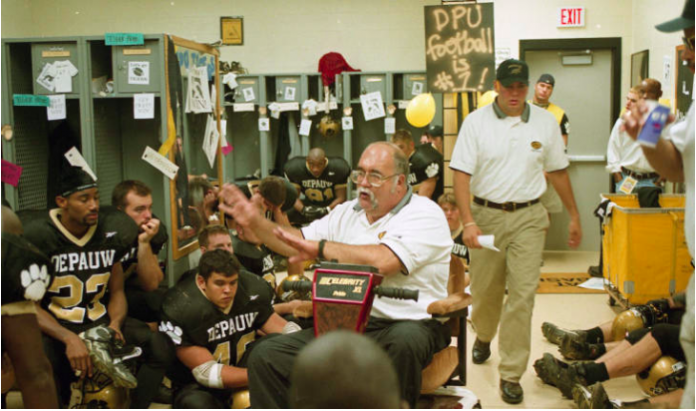 Earlier this year, football and track coach Tim Hreha was using an electric wheelchair held together by duct tape and gorilla glue. Now, he can ride in comfort, and style, in a new wheelchair that was purchased with the money from a student-led campaign.
Hreha coaches defensive line and linebackers for the DePauw football team and throwers for the DePauw track and field team. He is a 1973 graduate of the university and has coached every year since his graduation.
Three DePauw students, senior track and field athletes Johnny Miller and Tyler Nemeth and sophomore football player Cam Haynes, started a GoFundMe to raise money for Hreha, DePauw University's longest-tenured coach. In less than 24 hours, the campaign raised over $7,500, which was the original goal. Miller said that the money will go toward reimbursing Hreha for a new electric wheelchair he recently purchased.
Hreha was diagnosed with cerebellar ataxia in his early 40's, which he describes as a center-of-balance issue. Since then, he has used a wheelchair to move around.
"His last chair was held together by duct tape," Haynes said. "And it's his 50th year coaching here, and he has affected so many student-athletes. This was a way for us to show him our gratitude."
The donors have ranged from DePauw alumni, current students and current coaches, among others. DePauw head coaches such as Blake Allen, Kori Stoffregen and Jillian Howley have all donated to the campaign.
"We did not expect to raise this much money this quickly," Haynes said. "When we were at $5,000 in four hours, I was like 'wow, we're going to meet this goal quicker than expected.'"
Hreha was one of the 56 staff members who was laid off in February, but the students said they came up with the idea of the fundraiser prior to that announcement.
There will also be an event on April 16 to raise more money for the campaign. "Rolling for Hreha" will be held at the bowling alley from 7pm-10pm on Tuesday to give an opportunity for more people to donate. There will be pizza, drinks and open lanes for students to bowl to celebrate the campaign.
"It should be a lot of fun," Miller said. "We want to show Coach Hreha how much he is loved and how many people he has impacted."
Senior football player Andy Hunt donated to the GoFundMe and was particularly close to Hreha over the past four years. He said this is just a small way for the DePauw community to show their gratitude for the coach.
"We love Coach Hreha," Hunt said. "He deserves this and much more."