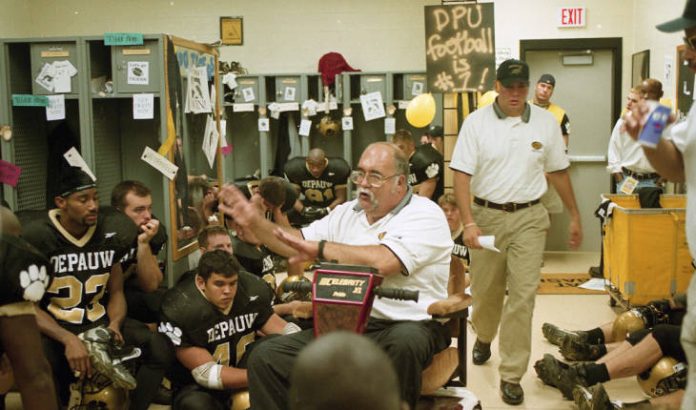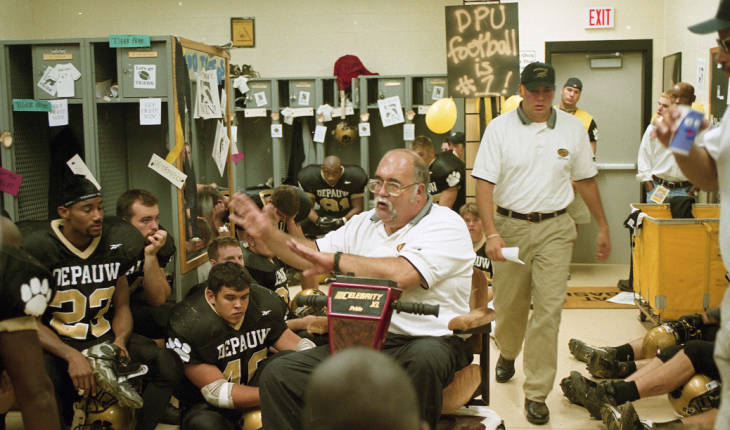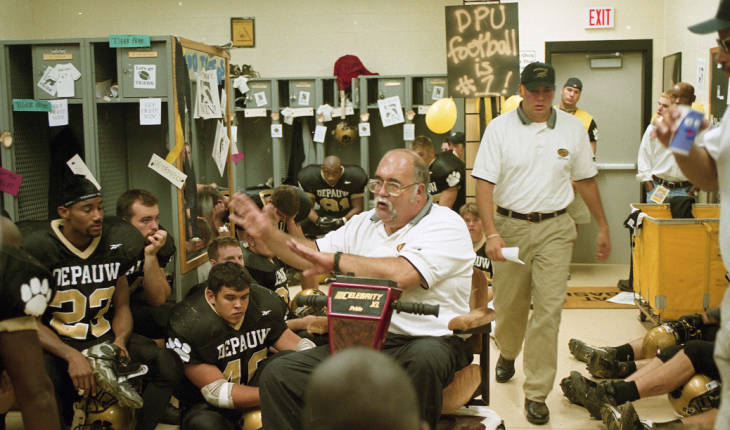 Tim Hreha sits in his office in the Lily Center surrounded by old photos and conference championship rings from his days playing and coaching football and track at DePauw University.
The rings are all unique, representing three different conferences DePauw has played in during Hreha's tenure. The photos resemble different eras of life, some stuck in black and white while others are recent and vibrant. Each ring and photo encompassing a different memory in his life.
Hreha, a 1973 graduate of DePauw University, is in his 50th consecutive year with the school, which includes his years as a student, teacher and coach.
"He is the link between the past and the present," head football coach Bill Lynch said. "When alumni come back to DePauw, they come back to see Coach Hreha."
Hreha grew up in McKeesport, Pennsylvania, a small, industrial town 15 minutes outside of Pittsburgh. He grew up a football player and was recruited by University of Maryland to play in college. When Maryland's head coach, Tim Mont, was fired, he took the head coach position at DePauw, and Hreha followed him to Greencastle.
"My first time ever being on campus was my first day of school," Hreha said.
Hreha started at defensive line for three years, only not starting as a first-year because of NCAA rules that prevented first-years from competing. He was a co-captain his senior year, also throwing shot put for the track and field team.
"I wasn't the greatest player in the world," Hreha said. "But I worked hard and knew what I was doing, so I managed to be successful."
After graduation, Hreha spent a year as a graduate assistant for DePauw's education department, earning an M.A.T. degree in Physical Education. The next year he began coaching for the football team and teaching at the music school.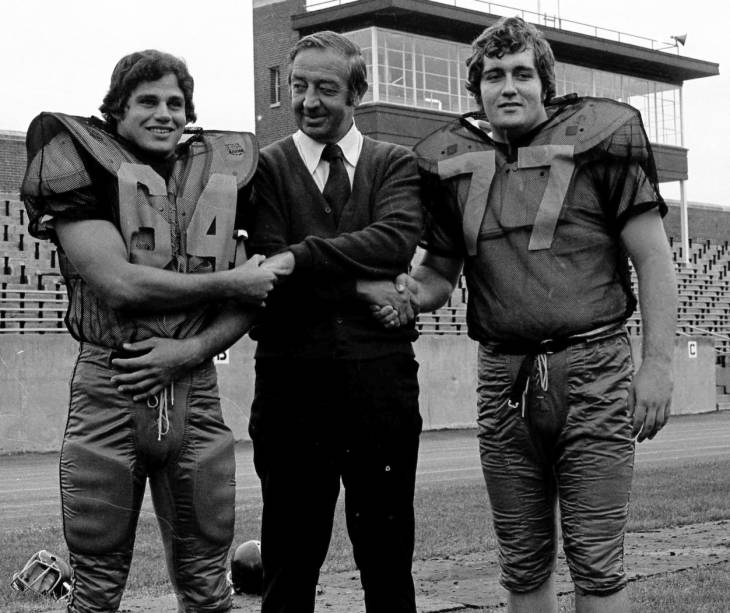 Hreha spent the next few years as an assistant on the football and track coaching staffs, before being asked to take on a bigger responsibility. Hreha became the first women's track and field head coach in DePauw's history in 1981, while also remaining an assistant for the men's team.
"Out of nowhere, one day I was asked if I wanted to start up a women's track program. When I said yes, they told me, 'Great, because we already told the girls you were their coach,'" Hreha said.
In 1977, Alan Hill came to DePauw as a football player and pole vaulter. Hreha knew the type of potential Hill had from the first moment he saw him pole vault. However, the problem was that Hreha had never pole vaulted before, and quite honestly, didn't know a lot about it.
So Hreha dug in. He read books on pole vaulting. Watched videos. Called other track coaches to get advice. In a couple of years, Hreha would coach Hill to a national championship.
In football, Hreha worked his way up to defensive coordinator on the staff. After the 1979 season, DePauw had just won five games in the past three years. He went home to Pittsburgh during a break after the season and attended the Pittsburgh Steelers' camp, where he took notes on a new style of defense.
The defense was a cover 2 base, which puts a lot of responsibility on the two safeties. The safeties on the team were Dan Whaley and Hill, who would end their careers as DePauw's first and second all-time career interception leaders, respectively, so the defense fitted the personnel of the team.
They improved to 7-2-1 in 1980, and in 1981, finished the year with a record of 9-1, ending the season with an upset win over undefeated Wabash College. The Tigers finished the year ranked ninth in the country, just one spot short of making the playoffs.
"You never forget seasons like that," Hreha said. "I have a memory attached to every season, but I'll never forget the turnaround that team had."
He has coached football under eleven different head coaches, bridging the gap between eras of DePauw's rich history. Lynch said that not only is he an extremely knowledgeable piece to the coaching staff, but his passion for the history of DePauw is vital as well.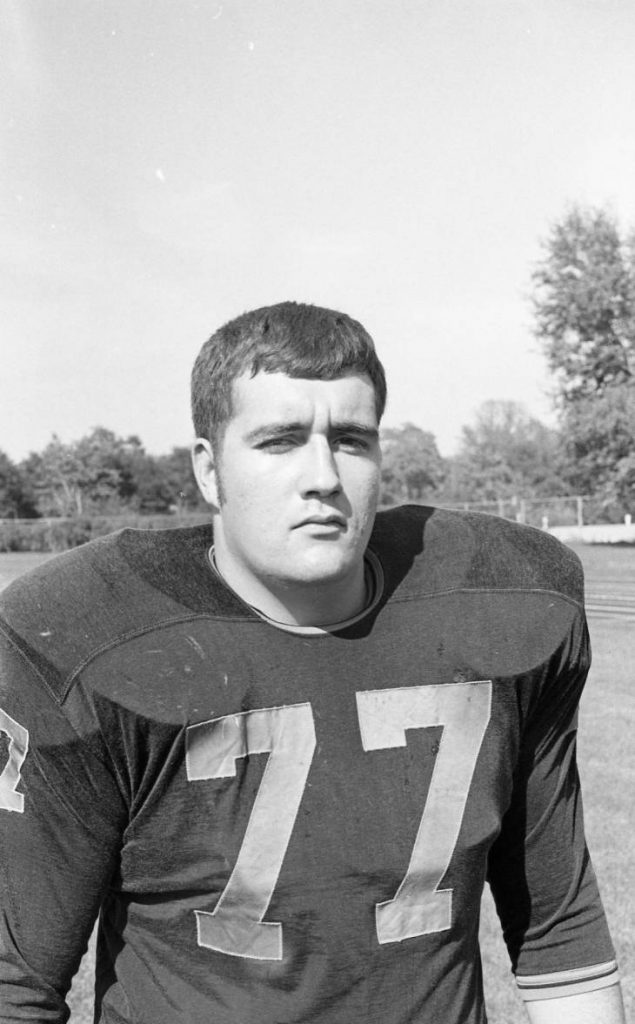 "People at DePauw love its history," he said. "Being able to have a guy on the staff like Tim, who knows everything about our program's past, is amazing."
Lynch added that Hreha's memory helps the coaching staff create their game plan. When the coaches forget what happened on a certain or play or how the opposing team lined up in a specific circumstance, Hreha always remembers.
"I can remember specific plays that happened decades ago," Hreha said. "You can ask me what happened in our game against Albion College in 1984, and I can tell you that an Albion player scored a late-game touchdown that should've been called out of bounds."
Players gather around him before and after practices to hear old coaching stories. Senior football player Andy Hunt got particularly close to him because Hreha worked with him at his kick returning. While the backup kick returner was taking reps, Hunt spent his time talking to Hreha.
"Coach Hreha truly cares so much about his players," Hunt said. "He constantly made me laugh, and I know I could go talk to him about anything."
Hreha says that coaching keeps him young. His grandchildren play music, and he'll jump in and name the artist, leaving his grandchildren amazed by his knowledge of modern music and pop culture.
"I hear it every day at practice, so of course I know who all these people are," he said.
Today, Hreha continues what he's done for 50 years. He coaches, and he doesn't see himself stopping anytime soon. Half a century of doing it at DePauw, and he has no regrets.
"Everyone wants to run out on the field at Notre Dame, or someplace like that," Hreha said. "But I've always said, 'treat everything you do like it's the big time.' And there is no doubt in my mind that coaching at DePauw has been the big time for me."