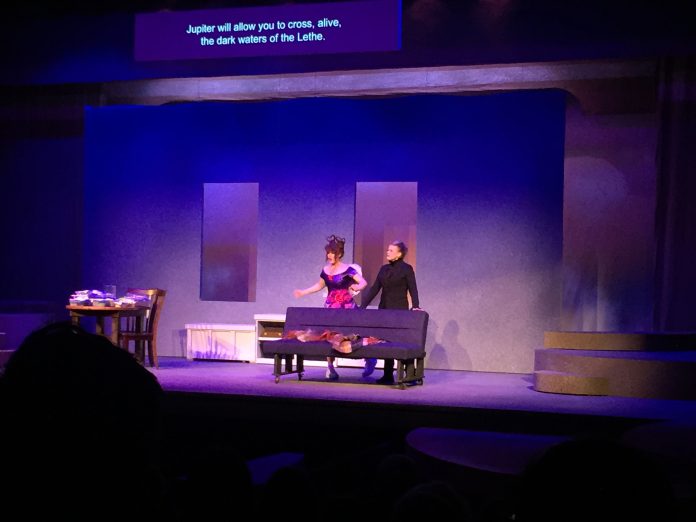 On March 3, Dido and Aenaes, the first of two operas performed last weekend, opened in Moore Theatre. The second opera, Orfeo ed Euridice, opened the next day. Each opera is an hour long and was prepared with the help of guest stage director Cara Consilvio.
Dido and Aenaes is an English language opera that tells the story of Dido, queen of Carthage and her tragic relationship with the Trojan hero Aenaes. DePauw's theater department staged the opera on one set, using the different levels of the stage and painted backdrops to indicate space and scene changes.
Orfeo ed Euridice is an Italian language opera that tells the story of Orfeo's trip to the underworld to resurrect his wife, Euridice. The set for this show included the same multi-leveled stage, as well as furniture that changed from scene to scene. According to assistant director Grace Riley, Consilvio had suggested modernizing the show, turning Orfeo's home into a modern apartment. The underworld scenes retain an Ancient Greek aesthetic, but the costumes include a variety of time periods, representing heroes from all ages.
Riley said that assistant directing "has been really, really fun." She previously performed as a chorus member in two DePauw operas before COVID-19. Like other stage productions, in an opera, "you have to figure out the story, what's the backstory of your character?" Riley said. She described Consilvio as "really down to earth and genuine… She brings a lot of new ideas to the table that I hadn't heard of before."
Katherine Dobbs, who plays the titular character Orfeo, said, "Operas tend to be in foreign languages, most often Italian, German, and French. Seeing as Orfeo ed Euridice is in Italian, it is crucial that as a performer, I understand the translations for everyone's lyrics." While the lyrics are translated for the audience, the performers are relying on memory alone if they don't speak the language. Dobbs also said that she had to "build up stamina," to prepare herself for singing through the hour-long production.
Frances Wycoff, who plays Amore (Love) in Orfeo ed Euridice described her experience preparing for her first opera. She said that "the collaborative aspect," of opera was the most unique part of the experience. "Playing the character of Amore/Love is honestly an honor. She is noble and ever-enduring, but with that perspective comes the free-spiritedness and fun that comes with knowing that things will work out, even when they don't work out," Wycoff said. She expressed gratitude to Consilvio for supporting student vision and creativity as well as helping them develop skills throughout the production, a view Dobbs and Riley shared.
Senior Hannah Brugh, playing the titular character of Queen Dido in Dido and Aenaes, said she was "sad and nostalgic" to be performing in her fourth and final opera at DePauw. She was enthusiastic about the shows themselves. "This story reminds me that though times and circumstances may change, human feeling and emotion remain universal, and that is something so beautiful to me…The stories we are telling are compelling and emotionally charged, and you won't want to miss them!"
Although she felt that every performance has its own challenges, Brugh said, "balance between the orchestra and the singer-actors onstage is a much more crucial element in operatic preparation," because everything is sung and the music only stops between scenes.
Dobbs recommended DePauw's current operas for first time viewers. "I honestly believe Orfeo ed Euridice is a wonderful opera for those who have never been to an opera before. Not only is it only about an hour long, but it is jam packed with action, engaging lighting, and many set changes as Orfeo continues on his perilous journey from his apartment, to Hades, and even to the Elysian Fields," she said.
One thing first-time attendees might need to know when viewing an opera is that the supertitles do not feature exact repetitions. A line may have a beginning or end phrase repeated with the music but only appear once on the screen, staying up for the duration it is being sung. Supertitles are provided for both the Italian and English opera. "Just be open-minded," Riley suggested. "I'd say come in with an open mind and honestly, be prepared to be surprised cus everyone sounds so so great."
Tonight, Mar. 5, Dido and Aenaes will be performed again in Moore Theater at 7:30. Students can see Orfeo ed Euridice tomorrow, Mar. 6 at 2:00. Tickets are available online and are free for students and $10 for community members.