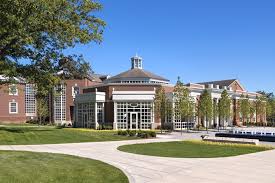 Excessive rain caused flooding in the Union Building on Feb. 24.
Warren Whitesell, associate vice president of facilities management, did not respond to an email requesting an interview, however, Ken Owen, special advisor to President Mark McCoy, responded in place of Whitesell and said that he suspects the flooding was a result of a combination of the heavy rains that occurred last week and on the night of the incident.
"Our team believes the flooding took place after the waterproofing material installed on the exterior wall of the building apparently failed," Owen said.
The damage the flooding caused is confined to the exterior wall of the Union Building and parts of the building's carpet.
Because the waterproofing material failed to keep the rain out of the Union Building, Owen said that facilities management will likely need to "excavate along the foundation wall, remove the [waterproofing] material [and] clean and reinstall the material." Parts of the carpet might also have to be replaced due to damage.
Owen believes that the re-installation will prevent the floods from happening in the future as the material was not installed properly before Saturday.
The flood was followed by a campus-wide power outage that lasted for a few minutes around 2 a.m. Contrary to popular belief, the power outage was not related to the basement flooding, according to Owen. It, instead, was the result of a power issue related to DePauw's electrical company, Duke Energy.
The Union Building isn't the only building on campus to experience flooding this weekend. Mason Hall's basement had a large puddle of water by 8pm, which only grew as the night went on, according to sophomore and Mason resident Paulette Parra.
"DePauw did not send any emails to students regarding the floor and the fact that fans were left in a place that poses a threat to students as water is a conductor of electricity," Parra said.
Mason has had issues with flooding in the past. In the beginning of February, multiple rooms in Mason flooded, according to an email senior Diamond McDonald sent out to the residents of Mason Hall.
However, unlike in the Union Building, the flooding in the residence halls was the result of pipes bursting, due to Mason Hall residents keeping their windows open, according to McDonald's email.