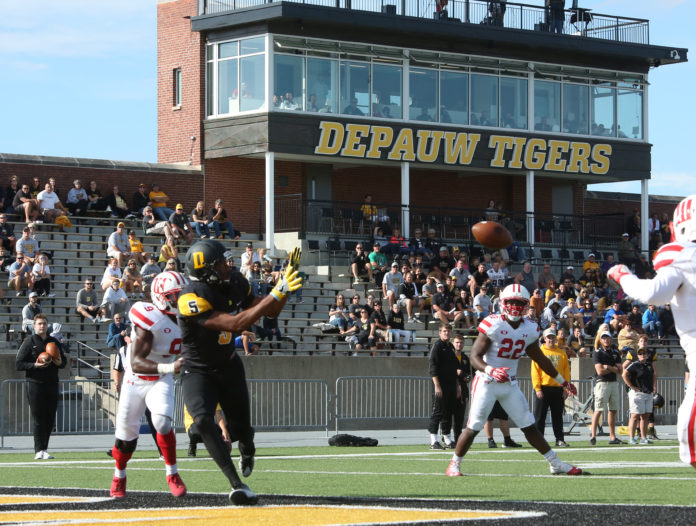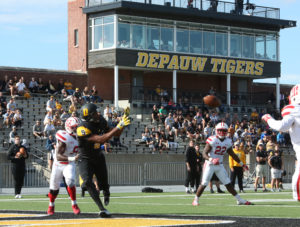 The 13th-ranked Wittenberg University Tigers football team snapped #25 DePauw's six-game win streak, by securing a 52-6 victory in a match-up of the remaining unbeaten NCAC teams. Wittenberg's special teams and defense accounted for three touchdowns in the contest, while DePauw allowed a season-high four turnovers.
Out of the gate, DePauw was the first team to put points on the board. Junior kicker Jake Tanner hit a 31-yard field goal on the Tigers opening possession. However, that was the only lead DePauw obtained all game.
Wittenberg responded with a long drive of their own, marching 58-yards down the field on ten plays for a touchdown. Following an ensuing three and out by the DePauw offense, Wittenberg's Nick Kendall returned a 60-yard punt for another touchdown placing the visiting Tigers up 14-3 with 3:28 left in the first quarter.
"We made a lot of mental mistakes on special teams that put us in tough field positions defensively. However it was a team loss, and we need to realize we still have an NCAC title to play for. One game does not define us," junior safety Dave Cory said.
The DePauw offense found trouble sustaining drives on the day, with a season-low 33% completion rate on third down conversions. DePauw was also outgained 325-211 yards in total offense by Wittenberg.
"At the end of the day we played a good defense and the offense didn't click like we normally do. We are taking it one game at a time and looking ahead to the next match-up," sophomore running back Tanner Cleveland said.
Turnovers also played a vital factor in this battle. The Wittenberg defense forced three fumbles, one of which was scooped up for a 17-yard touchdown to close out the half. Wittenberg held a commanding 38-3 lead headed into halftime, more points than the DePauw defense had previously allowed in an entire game all season (30).
"Moving forward we are going to need to prove to people that we are a serious team. We need to clean things up in every aspect of our game," senior linebacker Matt Crupi said. "If we want to win out this year, we are going to have to start preparing harder than we have been."
The deficit in the second half was too big to overcome for DePauw. Wittenberg amassed 14-points in the third quarter to extend their lead to 52-3. An interception late in the third was returned for an 80-yard touchdown by Wittenberg's Michael Ford.
"The intensity in which Wittenberg came out with to begin the game was not matched, we simply did not execute our responsibilities," sophomore offensive lineman Nick LaChapelle said. "We are going to keep doing us and not let that tough loss affect our play moving forward."
DePauw looks to rebound after the season's first loss by hosting (2-4) Allegheny at home this weekend in Blackstock Stadium.