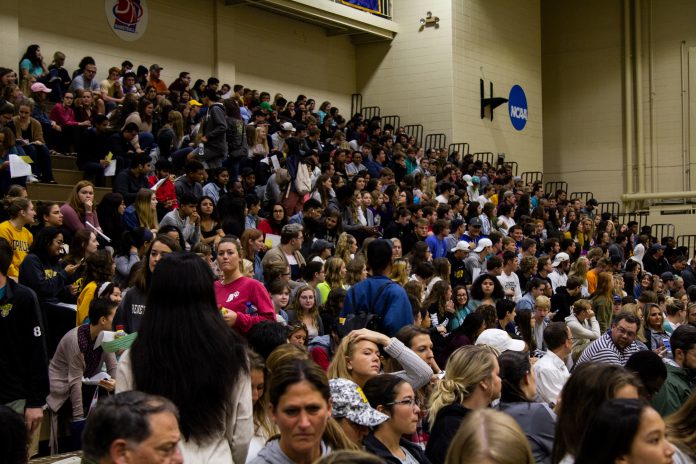 Almost 2,000 people attended DePauw Dialogue, according to the Senior Advisor to the President for Diversity and Compliance Renee Madison.
To gauge how many people attended DePauw Dialogue, staff members counted the number of lunch vouchers that were handed out. Madison said that this was a "good way to tell how many people attended, particularly because the keynote is usually the most well-attended part of the day."
Additionally, more than 90 percent of the class of 2022 scanned in for the morning session of DePauw Dialogue, which is the most first-year students ever in attendance, according to Vice President of Strategic Initiatives Cindy Babington.
Babington added that DePauw Dialogue will likely be mandatory for the Gold Commitment for the class of 2023, but an assessment will be done to determine this.
As a way to measure the success of DePauw Dialogue, Madison sent a survey to students, staff, and faculty asking questions about the content of the keynote and skill-building sessions, the relevancy of each session, and which session attendees found most engaging.
Out of almost 2,000 people in attendance at DePauw Dialogue, only 161 chose to answer the survey, according to the survey results provided by Madison. She said that although this number is "a little bit less than past surveys," the amount was not an "unusual sampling."
Madison added that "some folks get busy with studying or their work here teaching classes and it just drops on the priority of things that need to get done."
42.8 percent of students found keynote speaker Melissa Harris-Perry to be the most engaging DePauw Dialogue session they attended. With a rating of 5 meaning "excellent" and a rating of 1 meaning "poor," 82 percent of responses rated her content at a three or above. 23 percent of responses gave the content in Harris-Perry's speech a rating of five, and 9.9 percent gave her a rating of one.
24.1 percent of responses favored the morning skill-building sessions. 22.3 percent favored the afternoon skill-building sessions, while 35 percent of people surveyed did not attend the afternoon sessions. 10.8 percent favored the community building session that came at the end of the day, but 57 percent of people surveyed did not attend this session.
When it comes to the results of these ratings, Madison said that "the goal would be to be above neutral, and so I think (these results) are okay, but I wouldn't be satisfied with that."
Madison has found the hardest challenge to be keeping the sessions as workshops and not lectures. Madison said, "We have to have workshops where people are building skills to engage in dialogue about subjects that quite frankly make some people uncomfortable."