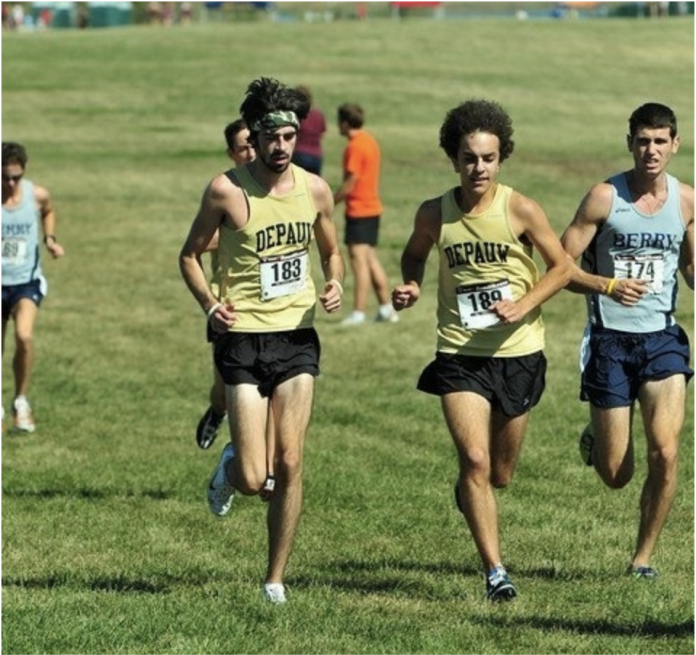 After three runs at NCAA Division III Championships, Noah Droddy '13 finished his college cross country career with two All-American honors attached to his name. The triumph of his second consecutive title was featured in The DePauw, earning a third of a page in print.
The 352-word career summary of one of the best runners in DePauw's program history embodies Division III cross country coverage as a whole, according to Stu Newstat '14. Since 2017, The DePauw has only published seven articles about men and women's cross country. During the same time, the program has produced 23 All-Conference individuals, 8 All-Region individuals, three conference team championships, 1 individual conference champion, two team national qualifications, 5 individual national qualifiers, and one All-American.
Recognizing the lack of media attention that Division III running receives nationally, Newstat and Droddy launched a podcast, D3 Glory Days, in 2019 to document the untold stories of Division III running, and piece together a collective history. "There are so many stories out there that need to be covered," Newstat said. "We're just getting to the tip of it. There is so much more that needs to be done in terms of history and in terms of current."
The podcasters' friendship dates back to 2009 when Newstat was a prospective student, and Droddy, the only first-year on the team, was the one-man recruiting department.
"I knew I wanted to run in college and I was looking at DePauw's times, like, 'oh, I could probably make this team and be a contributor,'" Newstat said. "I wanted to go somewhere where I can contribute."
Newstat's running career began in middle school, and after some success and encouragement from his eighth grade coach, he quit tennis to focus on running. During his junior year, he started to look at schools he could run at, and he found DePauw through a loose family connection.
After a successful recruiting visit, the pair went on to be roommates, hosted a WGRE radio show, and ran three seasons of cross country and track with each other. At the core of both of their decisions to attend DePauw, though, was the opportunity to run in college.
Unlike Newstat, collegiate running was not something Droddy was considering. For one, Droddy never qualified for the state meet in high school. It was his high school coach, Brian Power '03, who encouraged him to look into running programs at Division III schools, specifically, DePauw.
"I wasn't like a big time runner," Droddy said. "But towards the end of my high school career I was starting to improve enough where Division III running would have been a nice way for me to continue."
Now, in addition to being a professional runner, Droddy is the fastest marathon runner to come out of Indiana. Droddy says becoming a professional athlete was never the end goal, though.
In an alternate universe where he doesn't find the same success, Droddy says he would still be happy with just figuring out how good he could be. "I just wanted to get better and improve," Droddy said. "It just so happens the goalposts were a little bit further than where I thought they were."
Newstat never made it to nationals in college, but, like Droddy, DePauw's cross country program, coached by Kori Stoffregen, gave him the space to develop his passion for running. "Kori helped me, kind of, re-find my love for running again," Newstat said. "He's always there when you need him, which I think is huge... And so similar to Noah, [Kori] made me curious about my own training, which led me to a partial coaching career."
After his own Division III glory days, Newstat returned to DePauw for two years as an assistant coach, then he coached at Amherst for a year, and has since founded Old Gold Track Club, a global personal coaching program.
The podcast was also Newstat's idea. Initially, he was only going to ask his college roommate to be the first guest due to Droddy's notoriety in the running world, but then, remembering their WGRE show, Newstat realized the duo's co-hosting potential.
The pair have released 32 episodes that include interviews with current and former Division III runners, including their former coach, Stoffregen. Droddy says the podcast is a platform to share stories in a way where it wouldn't otherwise be accessible.
"It feels cool to be able to be the guys who tell these stories, because I remember being in Division III," Droddy said. "You hear these names and stuff, and you pick up little pieces of history here and there, but there's really nowhere to actually learn about it and to hear about it from people's own mouths."
Over the last three years, the podcast has developed a small cult following, the duo recently announced they have hit 50K downloads, and on March 16, Citius Mag, a running podcast network, partnered with the DePauw Alumni. "D3 Glory Days brings the spotlight to the untold tales of Division III track and field through the athletes, coaches and historic events that make it great," Citius Mag said in an Instagram announcement.
Many of the former Division III runners on the show, like Droddy, have found some success post-college, Newstat speculates that they would not have had the same opportunity to run and develop as an athlete at a larger school.
"I think [Division III running] is an opportunity," Newstat said. "For me, going Division III was just a way to continue running, continue the sport I want to do and, you know, running is more of a lifelong sport. You can go out and continue to run marathons or 5K's, so the opportunity to kind of continue that, and not do it by yourself, and have a team with you, was a big reason I went Division III just because of that opportunity."
D3 Glory Days is available wherever you stream your podcasts.