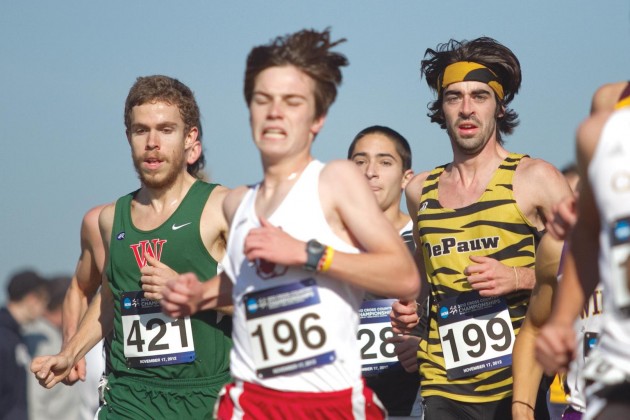 DePauw cross country's most successful runner peaked his season at just the right time – the NCAA national championships.
Finishing eighth on Nov. 18, senior Noah Droddy stayed in-state for his last collegiate race in Terra Haute, Ind., and improved one place from last year's championships. Droddy also cut 30 seconds off his previous course time, which is regarded as one of the fastest courses in the country.
"I went out more aggressive than in previous years," Droddy said. "Guys broke away right in the first mile, but I hung back with the larger, 10-to-15 range. On the last straightaway, I was able to catch up with them."
Head coach Kori Stoffregen added: "He actually ran a pretty smart race. Most of the lead group except two really dropped off, so he kind of worked his way up and got a real nice finish."
One of the big mental advantages for Droddy was the close distance of the championships, a hour away from Greencastle and a hour and a half from his hometown of Indianapolis.
"We had a big group from DePauw so that was really nice, also my family and friends from home," Droddy said. "I was still by myself [before the race], I didn't let it throw me off. It was my last race, so I was focused on enjoying every bit that I could."
With the support of his entire team, Droddy also received his second straight All-American honors after his top 10 performance amongst the 280 other runners. Last year, Droddy placed ninth in the nation at Wisconsin-Oshkosh, and 68th as a sophomore.
"To finish top 10 in the country is great, everything has to go right, and he had to be healthy in the important meets," Stoffregen said. "To get back to that level and finish that high again is a big deal, and he's real proud of his efforts."
Droddy isn't done running yet, however. He will continue running in a few indoor track meets in December, in hopes of qualifying for the indoor national championships.