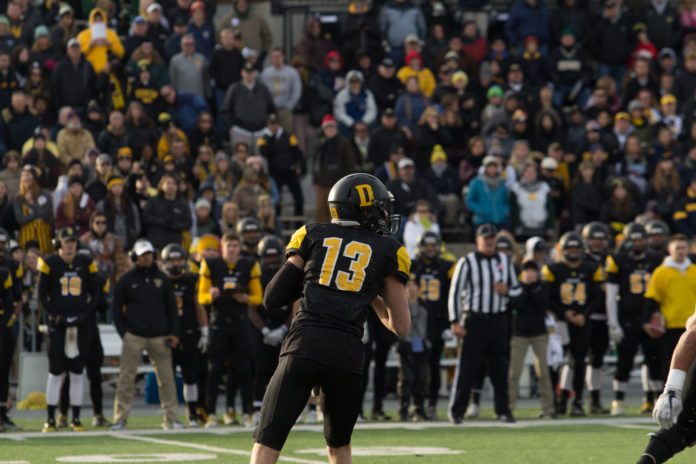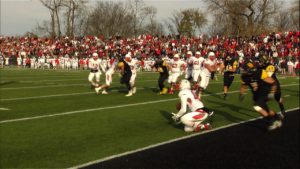 When DePauw University's junior linebacker David Cory threw his 190-pound frame into Wabash College's receiver Kirby Cox at the goal line, it seemed the Tigers had ended the nightmare of a drive that only minutes before had resulted in a Little Giants touchdown.
But the game's officials raised their arms vertically to signal both Wabash's two-point conversion and unforeseen comeback were good.
Or so they thought. Only hours removed from Saturday's 22-21 loss at Monon, Tiger fans took to social media outlets to examine a screen grab from Fox Sports that appeared to show Cox's knee touching the ground before he had crossed into the end zone, marking him down inches from the goal line.
Wabash's conversion had already been up for debate before game's end as Cory even admitted his uncertainty of where the Little Giants receiver was after making the catch.
"Originally I couldn't tell if he was in or not. I know that I hit him right after he caught the ball, and he fell into the end zone after," Cory said later of his tackle. "I thought I had him down short, but it was such a bang-bang play that without having any replay system, it was pretty hard to make the correct call."
Speaking of replays, where were they?
According to Athletic Director Stevie Baker-Watson, the North Coast Athletic Conference is only now testing the waters of replay review used with first-half targeting, perhaps a more relevant topic given Saturday's referees ejected the wrong DePauw player for supposedly targeting a member of the Little Giant's offense.
In the NCAA rulebook, targeting is defined as a player making "forcible contact with the helmet crown" or "forcible contact to the head or neck area of a defenseless player."
Baker-Watson, however, believes replay reviews in DePauw football are still a ways off. "We're not ready for it. I still think we have a bit more to go," explained Baker-Watson, who noted additional referees and other resources as the primary issues for getting a replay.
"It's also from the perspective of officials," Baker-Watson continued. "How do they interface with replay? We'd have to make sure our officials' association is on board."
Replays aside, NCAC Executive Director Keri Luchowski was quick to put to rest any dispute of the call based off the postgame images.
"As a judgment call, that line judge was in the proper position and waits for the receiver to make the catch," explained Luchowski, who has already reviewed the play. "From our perspective, that's a good call. Watching it live, that looks like a good call."
But the ruling on the field remained anything but a good call in the eyes of many Tiger fans, as the play quickly became a subject of dispute. The photo lingered through Sunday and carried into the work week.
Coming into the office on Monday morning, DePauw admissions counselor and 2017 graduate Ben Hatchett was still hearing about the two-point conversion.
"I think that's always the case post-Monon, but especially with this picture going around… Is it really 21-20, DePauw wins?" said Hatchett, who was seated halfway up the left side of Blackstock Stadium's bleachers, giving him a perfect view of the play.
Hatchett was one of a number of fans who warmed to the idea of using replay reviews in future games, especially in crucial ones.
"It's an expensive thing for year-round," said Hatchett. "But the more I think about it, it is the Bell game, there's the rivalry, there's the tradition. Why not have it for that?"
Whether replay review has a future in DePauw sports, Head Coach Bill Lynch isn't sold on its potential use. "There's something pure about Division III football. Suddenly there's one game where you change all the rules for it? I'm not sure if that's fair to everybody else either," said Lynch in his office on Tuesday. "If the game wasn't on television, we probably wouldn't be having this conversation."