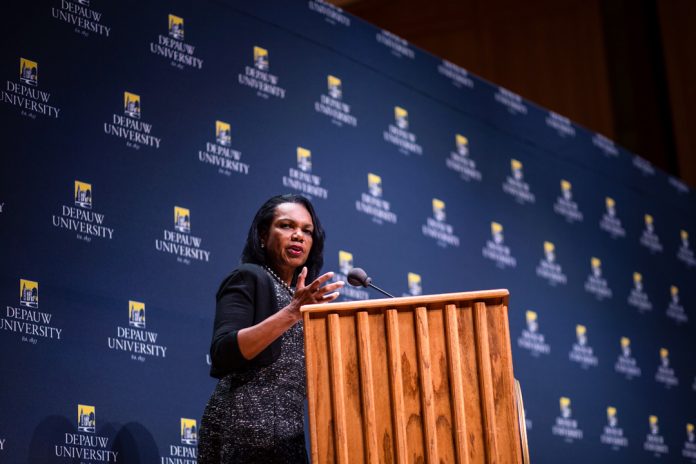 Amid tight security and a student protest, former Secretary of State Condoleezza Rice engaged in a wide-ranging public conversation Tuesday night facilitated by Kathy Hubbard, a personal friend and DePauw Board of Trustees member.
Rice, who served under President George W. Bush, spoke in the Green Center for the Performing Arts (GCPA) as part of the Timothy and Sharon Ubben Lecture Series.
It was during the Bush administration that the United States went to war with Iraq, due to suspicion that the country possessed weapons of mass destruction. The Iraq war lasted from 2003 until 2011 and resulted in hundreds of thousands of casualties.
Hubbard asked Rice if she would have done anything differently regarding her influence in the United States' decision to invade Iraq.
Rice said you can't be part of such a big decision like this and not wish something went differently.
Although Rice does not currently hold a political position, her experience with international affairs was shown throughout the conversation as she commented on current events concerning North Korea, Syria, Iran and more.
In regards to North Korea, Rice discussed negotiations between the United States and North Korea as well as nuclear testing. Rice said she tried to negotiate with the North Koreans in the past and that the Trump Administration is "doing about as well as you can do."
On the subject of nuclear weapons, Rice said nuclear testing is "binary, because you either succeed or fail."
Rice also said the decision to withdraw U.S. troops from Syria was a "rather impulsive decision." She hopes this decision is turned around because we owe the Kurds "more than that," regarding the impulsive decision to remove troops.
After discussing the withdrawal from Syria, Rice commented on the recent United States withdrawal from the Iran Nuclear Deal.
Rice was not too critical of Trump's decision, due to her belief that the deal "was not a particularly good deal," and that she "think[s] we could have gotten a better deal."
Rice also discussed domestic issues such as racism in America.
Hubbard asked Rice if she thought racism in America has gotten better or worse. Rice said although we're seeing "spikes of it," it has not worsened, and "we dishonor people who fought to make it better" when we say it has gotten worse.
Rice, who grew up in segregated Birmingham, Al., referred to three mantras her parents recited when she was growing up.
The first mantra is to be "twice as good," and the second is that when you think of yourself as a victim, you have given control to someone else. The third and final mantra is one that included the recollection of a white student not wanting to sit next to her in class because she was black. When Rice told her father about this event, he said, "That's just fine if they don't want to sit next to you… as long as they move."
Rice said that although prejudice is not right, do not let anyone disempower you.
Many students reacted positively to Rice's lecture, as well as her ability to speak eloquently on a number of complex topics.
"Honestly, I thought that she was one of the most eloquent speakers I've seen," junior Quinn Wright said. "Afterwards, I was talking to people and I felt like the entire time she was so well spoken; it was like she was reading from a script, but she wasn't."
Senior Lauren Kaylor agreed that Rice's public speaking skills were impressive.
"I felt she had a wisdom that other speakers don't have. She spoke with pragmatism, and I think that the students at our school should take to heart what she has to say," Kaylor said.
"She is just a very disciplined, highly-trained person in many disciplines, which is very admirable and that's kind of far and few between these days."
Faculty members also responded positively to the lecture.
Kevin Hamilton, director of housing and residence life, said, "I was pleasantly surprised by her lecture because I haven't sat down and really listened to Condoleezza Rice. Just her thoughts, her ideas, and her views on policies, someway felt refreshing."
Jeffrey Gropp, professor of economics and management, said, "She [Rice] was a bright light in the darkness."
Despite many positive reviews, some students were unhappy with Rice's presence on campus.
The Democratic Socialists of DePauw hung a sheet sign on the second floor balcony above Kresge hall which read, "War Criminals are not welcome at DePauw. We must resist Imperialism."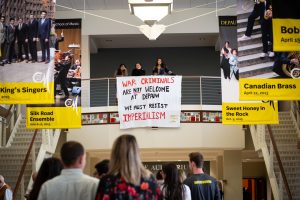 The DePauw reached out to the Democratic Socialists of DePauw, but they declined to comment.
Maddy McTigue contributed to this report.