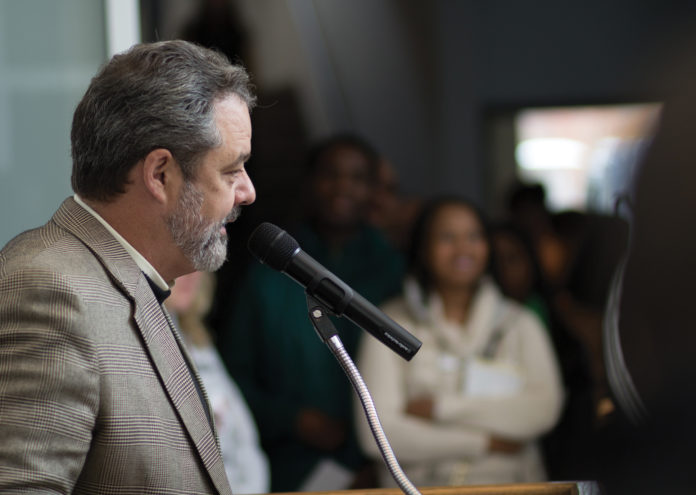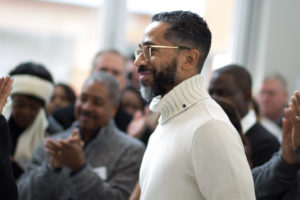 Instead of tailgating in the Blackstock parking lot on Saturday morning, many students, faculty, staff and alumni chose to pack the newly completed Center for Diversity and Inclusion (CDI).
The building's opening marked a milestone in the inclusion journey of DePauw University.
Friday night launched the beginning of the CDI kickoff weekend. The celebrations began with a keynote by Charlayne Hunter-Gault, former foreign correspondent for PBS. The renowned journalist began with her relationship with Nelson Mandela. She also talked about her experiences as one of the first two students of color at the University of Georgia. Her talk set the tone for the rest of the weekend.
Later festivities included free food trucks, carnival games, dancing, and a raffle at the Green Center for Performing Arts. First-year Maggie Ephraim said, "the event had a positive atmosphere and a hopeful air about it."
First-year Area Ramos, an international student from Spain, said, Friday's events were very fun. "They had food from all over the world, so that was pretty cool," Ramos said.
Saturday morning, the CDI was officially dedicated, followed by tours of the building and a student sponsored tailgate before the Monon Bell football game.
The CDI is across from the Peeler Art Center and will be open from 9:00 a.m. to 10:00 p.m. through the week and 10:00 a.m. to 10:00 p.m. on weekends. The primary funds in support of the building were provided by '95 DePauw graduates Justin P. and Darrianne Howard Christian, the namesakes of the building. Justin Christian spoke to the crowd at Saturday's event.
In an official DePauw media release last year, they announced that the couple pledged $500,000 to the improvement of diversity and inclusion at DePauw.
The building provides space for student organizations such as the African American Student Association (AAAS) or United DePauw to meet. "I hope [the CDI] can actually be used by our community and everyone can feel comfortable," sophomore international student Natalia Costard said.
President Mark McCoy noticed that "there was a lot of good will" surrounding the dedication and presence of the building. He hopes the building will be a gathering place for DePauw students and alumni. "I think that striving for the most inclusive climate possible is like chasing the horizon," said President McCoy, "I think that this building represents a major milestone in that effort."
Many alumni came to Saturday's building dedication to celebrate the progress the University has made over the last few years.
"I think that a lot of the groups it serves were constantly pushed to the sidelines in their old spaces and this provides a central location on campus with great and needed amenities," said Leeann Sausser '2016. "I feel like it really fills a gap at DePauw in providing a safe space for students."