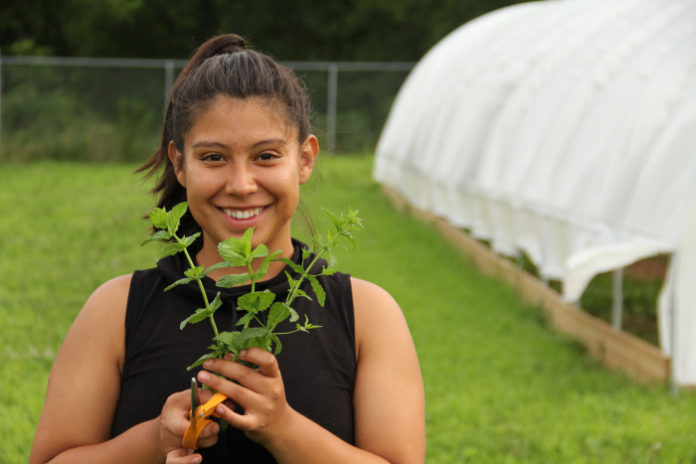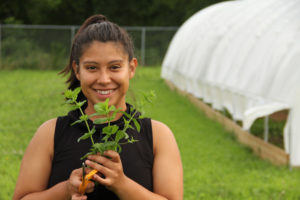 The campus farm continues to provide the DePauw and Greencastle community with an abundance of fresh, organic vegetables, despite its small size.
Anthony Baratta, director of sustainability, and Malorie Imhoff, the sustainability coordinator and campus farm manager, were a vital part of ensuring the farm was up and running while most of their volunteers and project managers were off campus. They also had the help of two summer farm interns and a sustainability intern.
Baratta is a 2012 DePauw graduate and helped establish the office of sustainability during his time here. "I came to campus as a first-year student in 2008 and DePauw held a series of speakers on climate change," Baratta said. "I started lobbying for the new president of the University (Brian Casey) to sign the American College and Universities Presidents' Climate Commitment. It was one of President Casey's first acts as president and that created the office of sustainability."
Imhoff's passion for sustainability stemmed from the discovery that DePauw did not have a campus farm. "They didn't have a lot of sustainability initiatives going on and I started asking my freshman year where my food came from," Imhoff said. She then decided to do something about it. "I decided with a girl that lived down the hall that we were going to start a campus garden." Throughout her time working running the farm her zeal grew more and more.
Over this last summer, the campus farm delivered food to both Bon Appetit and Bridges, the new pizza and wine bar opening in Greencastle's down town later this year. The Campus Farm has been churning out about 6,000 pounds of produce every year. They donate 10 percent of their produce to local food shelters and have a close partnership with the Putnam County Emergency Food Pantry.
Groups from the community would stop by and volunteer on the farm. "I would say at least every week, sometimes two to three times a week we'd have groups out on the farm," Imhoff said. Both Baratta and Imhoff enjoyed the interest groups showed and believe that having more people know where their food comes from is an important part of understanding the prominence of having a campus farm.
Junior Anna Werkowski was this summer's sustainability intern. She worked on the farm and did research on other forms of sustainable farming. "I would start the day off working on the farm, so I would help weed, plant and water," Werkowski said, "and then the rest of the day I would come here and work with Anthony. We would research the food system and find new ways to farm."
Baratta brought to light the advantage the Campus Farm has over most universities. "Most campus farms in the country are located 15-20 minutes from campus because the university doesn't want to give up the real estate, or have it close by," Baratta said. Baratta also mentioned that having it so nearby makes it more accessible to students who want to volunteer.
With the expansion of the campus farm, they plan on having a small farmer's market in Stewart Plaza later in the fall, a state-of-the-art facility that will have a kitchen, an indoor and outdoor classroom, and an eating area.
Open volunteer hours this fall for the campus farm will be on Tuesdays and Thursdays from 6-8 p.m.