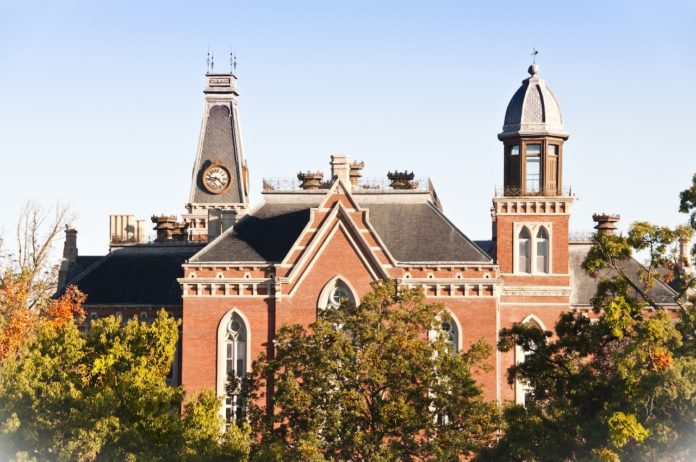 On Thursday, Oct. 3, co-chairs of the Campaign for DePauw, Sarah Reese Wallace '74 and R. David Hoover '67 announced that the campaign raised $383,099,799.
Hoover Hall was packed for the announcement with members of the DePauw Board of Trustees who returned to campus this week for meetings and the celebration of the end of the campaign, student scholarship recipients, staff and faculty.
The campaign, which began in Oct. 2014, was an effort to raise money to enhance the student experience, according to a press release from DePauw University. The Board of Trustees set the goal for the campaign at $300,000,000.
The campaign is the largest in the university's history; the last campaign raised $376.6 million.
President Mark McCoy spoke at last night's dinner.
"DePauw Alumni have a long history of showering their love on their alma mater," McCoy said.
Some 18,000 individuals and organizations donated to the campaign. More than 5,800 donors were giving for the very first time, according to McCoy's speech.
McCoy said in a press release that having 18,000 donors was significant considering "there are about 35,000 living DePauw alumni."
"And nearly 2,200, and this is perhaps most exciting, nearly 2,200 of those donors were student," McCoy said.
According to the press release, the areas that have most benefited from the campaign include endowed scholarships, student experiences and engagements such as internship and off-campus study opportunities, academic life through funding for endowed professorships and faculty development and campus facilities.
The press release includes a list of centers that have already been created like the Ullem Campus Farm, the McDermond Center for Management and Entrepreneurship, Reavis Stadium and more.
Steve Setchell, vice president of development and alumni engagement, explained in an email that some of the money fundraised since 2012 has already been spent.
Setchell said, "Some of the funds have been spent on facilities and through annual operations since the beginning of the campaign in 2012. A significant portion of the campaign went to endowment toward providing perpetual revenue, particularly for scholarships."
In the press release, Wallace said that DePauw produces leaders in a number of fields.
"The Campaign for DePauw allowed us to cultivate and invest resources that give all of our students ample opportunities for leadership development," Wallace said. "DePauw students learn about leadership and responsibility from day one, and they graduate prepared to lead in their lives and communities."
Hoover agreed, saying, "These types of leadership experiences through both academics and applied learning are made possible at DePauw through the support of thousands of alumni and friends who believe in this university and support it through their philanthropic giving."