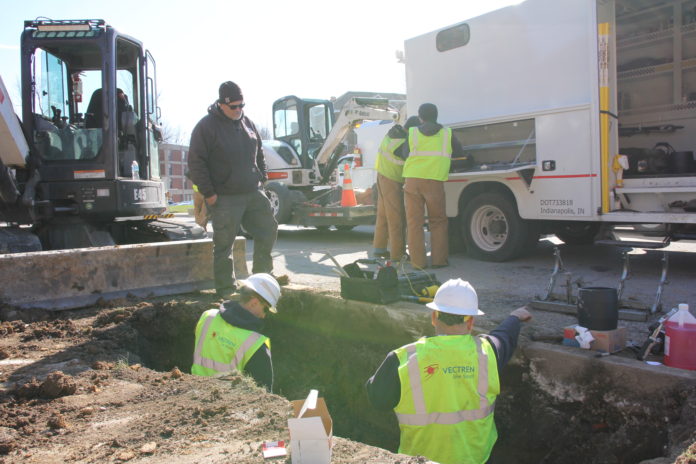 Facilities Management employees were attempting to "be a good neighbor" when they began digging to expose a fiber optic cable line for internet service provider MetroNet, Warren Whitesell, DePauw's Manager of Capital Projects, said.
DePauw's Pulliam Center for Contemporary Media (PCCM) was evacuated following an accident on the south side of campus that left natural gas emptying out of the exposed pipe. Workers struck the line Thursday afternoon at 703 S. Locust Street.
The 6 inch gas main owned by Vectren Corporation was damaged, but when company officials arrived on scene they clamped the line, delaying service to nearby homeowners and the PCCM while repairs were being made. Crews on scene expected the work to be completed sometime before 8:00 p.m. on Thursday.
"Our infrastructure was damaged," Natalie Hedde Vectren Corporation's Director of Communication said. "We weren't the ones who did the damage."
It is common for DePauw to help local utility providers in similar cases when the time allows, however, this time the job didn't go as planned, Whitesell said.
DePauw Public Safety received a call from the facilities crew digging at the site at 11:34 a.m., Thursday. The Greencastle Fire Department arrived on scene, investigated, took readings of the gas in the air, and deemed it was not safe individuals to be in the area.
At 11:45 a.m., DePauw Public Safety sent an information alert to students, faculty and staff advising them to avoid the area where the maine had been struck. The alert also informed students that the PCCM was being evacuated at the Greencastle Fire Department's recommendation. Soon after, another information alert was sent once Vectren arrived on scene.
At 12:23 p.m., Public Safety's RAVE Alert system reported that three additional living units had been evacuated. These included 703, 705, and 707 S. Locust Street. This came at the recommendation of Vectren who arrived on scene around noon.
"They responded with several crews that came out," Whitesell said. Stopping just short of calling the response an emergency, he continued, "they left [another job] directly and came here to work on our thing."
By 1:22 p.m., all scheduled classes and activities had been cancelled in the PCCM, Locust St. was closed to vehicular traffic in both directions, and crews were attempting to stop the leak, said Public Safety Director, Angie Nally.
During this time, Nally said arrangements were made for students who were displaced from their homes by the Office of Student Life and consistent readings were taken of nearby buildings. Nally said Vectren officials read the amount of gas in the air around and in nearby buildings to ensure they were safe. The Judson and Joyce Green Center for the Performing Arts, Humbert Hall, and Ridpath Elementary were all monitored closely, according to Nally.
Just before 3:00 p.m., Public Safety informed students, faculty and staff that the leak had been stopped, and it was safe to re-enter the buildings.
After repairs to the lines have been completed, an investigation will follow to see who is responsible for paying for the damage.
Indiana law requires anyone who digs to call 811 at least two days prior to starting their project. When asked whether DePauw called before they started, Whitesell said, "I don't know that I can answer that yet. That's part of the investigation. I believe there was a call put in, I'd love to tell you yes, but I don't know."
The status of whether DePauw called 811, whether or not the lines were properly marked with sand or flags, and if Vectren maintained the main properly will all be determined by an independent investigation.
"We've always tried to help each other," Whitesell said, "It's fairly common, or at least it has been here."