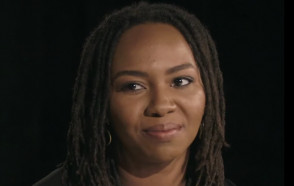 Co-founder of the #BlackLivesMatter movement Opal Tometi's discussion was moved from Thompson recital hall to Kresge Auditorium in anticipation of a large crowd on March 6. They were not disappointed.
#BlackLivesMatter, a historical and political movement, was created in 2013 by Tometi, Alicia Garza and Patrisse Cullors in order to "combat implicit bias and anti-black racism and to protect and affirm the beauty and dignity of all Black lives," according to Tometi's website.
Tometi spoke to DePauw University's campus on March 6, and she began her discussion on issues of anti-blackness and immigration by quoting queer feminist poet Audre Lorde. Tometi repeated Lorde's quote twice: "There is no such thing as a single-issue struggle because we do not live single-issue lives."
Sophomores Mayra Leon and Maria Flores brought Tometi to campus with the help of the Bonner Scholar Program, Peace and Conflict Studies Wright Fund and the Compton Center for Peace and Justice. Tometi's speech was part of the DREAMing Together series started to discuss undocumented as well as Deferred Action on Childhood Arrivals (DACA) status.
As a black woman whose parents immigrated from Nigeria, Tometi said she could never just choose one identity and believes that people should bring their full selves into spaces. "We can't afford not to bring our full selves into the movement," Tometi said.
Due to racial profiling, her father was constantly pulled over by police, and his undocumented status heightened their fear. "We didn't know what the outcome of each traffic stop could be," Tometi said.
Jaylus Rufus, senior and president of the Association of African American Students, said Tometi's talk created a more holistic picture of immigration by discussing anti-blackness because people have a certain idea of what an immigrant looks like that is not usually black. "In her talk she clearly states that everybody's body in this movement matters and that you need to focus on a lot of issues when you are talking about Black Lives because all black lives do matter," said Rufus.
Trayvon Martin's death moved Tometi and co-founders Cullors and Garza to start the #BlackLivesMatter. Martin was a 17-year-old African-American who was fatally shot in 2012 by George Zimmerman, a neighborhood watch captain in Sanford, Florida, according to CNN.
Zimmerman was acquitted on July 13, 2013 and on that day Cullors wrote a tweet that ended with #blacklivesmatter. Tometi saw Cullors' tweet and was moved by her words, especially the hashtag. "The last few words," said Tometi, "were the words I wanted to whisper into the ears of every black person I knew."
DJ Steward '15 acknowledges that this is an issue that is perpetuated throughout history and wishes his own all black high school would have educated him on institutional racism. "I think that that is something that the Black community really needs to look at. If we want to break the mold and say it is the systematic institutional racism, then how do we change the system to better help us?"
She emphasized state-sanctioned violence multiple times throughout her speech, and said it does not always look like acts of direct violence. "State-sanctioned violence is any law that strips away the rights of people," Tometi said.
For Tometi, the arbitrary deadline for DACA is also state-sanctioned violence. "I don't think any individual is 'illegal'," Tometi said. She called out Congress for allowing the DACA deadline to pass and said how it just shows how Trump wants to "Make America White Again and not Make America Great Again."
After her speech, Tometi answered questions by Leigh-Anne Goins, assistant professor of women, gender and sexuality studies, about immigration and the way people can be effective allies.
Tometi said that white people need to not only learn about how they can be allies, but also act as allies. She said it is up to white people to have the tough conversations with other white people and to stand for an anti-racism movement.
First-year Re'Nae Dillard agreed with what Tometi said about white people showing they are allies. "I was talking to a couple of friends because black people are tired of advocating for ourselves, we have to have people who are going to advocate for us because white people are going to listen to white people."
"We have a duty to transform our world," said Tometi, "we need people like you to get organized and hold yourself accountable to your values."