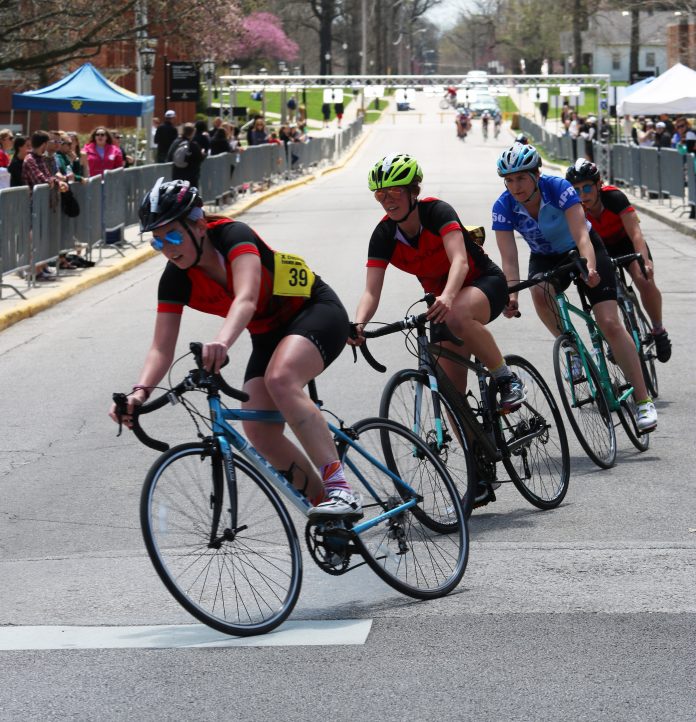 Little 5 spectators enjoyed sunny skies for the races this year as they lined barriers along College Street and around Bowman Park to watch the criterium this past Saturday.
Beta Theta Pi senior Logan Miller took home first for the second year in a row in the criterium. Miller also claimed the individual omnium award for the men as did Beta Theta Pi for the overall team award. Alpha Chi Omega received first for the team award, and its member sophomore Melissa Browning took first in the women's criterium. Sophomore Jodie Hutchins from Alpha Chi Omega won the individual omnium for the women.
The men's field consisted of 21 riders among seven teams for the criterium race. Miller placed first in front of senior Phi Delta Theta racer Joe Gallagher and Beta Theta Pi teammate, senior Jack Harbaugh, who took second and third respectively.
Miller's strategy in the race was to work for the team. "I was riding defensively and trying to slow the pace of everyone behind Jack. Joe just would not give up," Miller said.
In regards to winning the race for the second year, Miller said he is more excited about what biking has given him than the win. "I'm more excited about the lifelong friends I've made while on the bike," Miller said. "My friends and I have spent countless hours pushing each other, suffering, and laughing while out riding."
The women's criterium consisted of 15 riders and Browning took first. She was followed by Kappa Kappa Gamma senior, Lauren Stazinski and first-year teammate, Liz Busch.
Browning said she did not have much of an individual strategy and the team worked together to finish the race. "My strategy was to just finish it without crashing," Browning said. " Our team just tried to stay together as a pack the whole race, but we mostly went into it wanting to have fun and not fall before the finish line."
Throughout the race Browning stayed in the middle of the lead pack. Her finish with Stazinski came down to mere inches. "I think I did a pretty good job of saving some of my energy for the last lap. I went all out and I knew that in the last couple of feet I was still behind so I just pushed really hard," Browning said.
The individual omnium is given to the rider with the best performance across all of the events of Little 5: the time trials, street sprints and the criterium. On the men's side Miller took the honors and sophomore rider Jodie Hutchins won the title for the women.