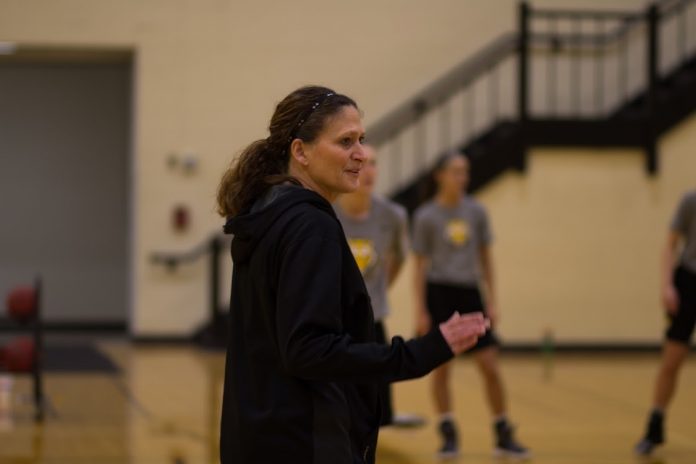 After opening their season, the women's basketball team has accompanied their big goals for the season with smaller ones to focus on throughout. The women's basketball team opened their season on November 13th with a win over Augustana College.
This year, the team has added ten first year players to their roster. These new players have been received by the upperclassmen with new lessons and high hopes.
Initially, first year Mya Shannon was intimidated to join a program with such a strong history. "Coming into a program like this is a challenge," Shannon said. "But I really believe all 18 of us have embraced it and do our best to push each other and bring out the best in each other everyday. We all have the same goal and we all know that all it takes is all you got, so that's what we have to give everyday."
Due to the amount of new players, the goal of the season has extended from not only focusing on championships, but they have also centered their attention to playing one game at a time. "With such a young team, we have to do a lot more teaching which is different from last year," Senior Maya Howard said. "We have to rebuild that on court chemistry if we want to be successful."
According to sophomore Claire Keefe, welcoming the freshmen has been a transition for all of the returning seniors, but met with excitement. "This season is very different," Keefe said. "We lost 4 amazing players, but gained some great kids. The freshman have been incredible to work with and love how we take in everything day by day."
To smooth this transition, the team has set smaller objectives to focus on. "We have 5 goals for each game," Keefe said. "Win hustle plays, win the board game, take care of the basketball, win the free throw game, and have team defense."
In their third game against Trine, Howard was named the game leader based on points. Keefe was also recognized for her nine rebounds throughout the game.
In addition to this, Howard's 27 points were career-high. They won by 2 points, with a final score of 68-66.
"The season is going well," Howard said. "We've had a lot of great competition in our first few games and we [were] excited to jump into NCAC play."
Following their initial three wins, the team lost in the Midwest challenge. Despite this, the team is still looking forward to the challenges and rewards that the rest of the season will present.
"I'm excited about the growth that this team can make," Howard said. "We have a lot of young and new faces on the team so I can't wait to see how good we can become as the season progresses."