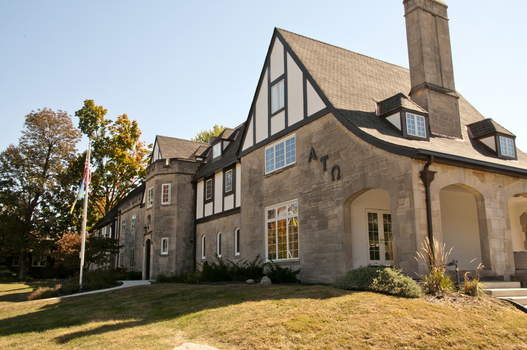 Alpha Tau Omega was denied medical amnesty after a student was hospitalized for a near-fatal consumption of alcohol, according to DePauw University University's Interfraternity Council President Andrew St. John and Myrna Hernandez, dean of students.
St. John, junior, added that almost half of members of the Delta Rho chapter of ATO had their membership revoked Monday by ATO Nationals.
The drinking incident occurred in November when sophomore Gunter Jaeger, a member of ATO, was hospitalized with a blood alcohol content of 0.471, according to court documents.
In an email, Hernandez confirmed yesterday that ATO was denied amnesty as an organization. "The qualifications for medical amnesty are: 1) Call. 2) Stay with the individual. 3) Cooperate."
The organization did not qualify for medical amnesty because "at the conclusion of an alcohol-related event that occurred at the ATO chapter house earlier in the evening, a call for help was not made to the authorities." A group of men was granted medical amnesty after calling for help for Jaeger later that evening, according to Hernandez.
In regards to the individual membership decision, Hernandez said, "Alpha Tau Omega is a private organization and all membership decisions are theirs to determine."
On Nov. 29, Jaeger was hospitalized with a blood alcohol level of 0.471. The incident occurred at a waiter appreciation dinner at Alpha Tau Omega. Katherine Frederick and Robin Hutton have been charged by the Putnam County Prosecutor's Office with providing alcohol to a minor. Jaeger was 20 at the time of the incident.
According to DePauw's student handbook, community standards consequences will be eliminated for "organizations seeking assistance for a guest or member when organization leaders are involved in actively calling 9-1-1 or DePauw Police and Public Safety, remaining with their peer in need of medical attention and fully cooperating with officials upon arrival."
In an email sent to The DePauw Tuesday, St. John said that each member of ATO was given 30-minute interviews with representatives from ATO Nationals and "their fate was decided based on those 30 minutes." St. John is a member of ATO.
The Medical Amnesty Policy does not "preclude disciplinary actions regarding other code of conduct violations such as false identification, causing or threatening physical harm, sexual violence, damage to property, harassment, or hazing."
According to Hernandez, all former ATO members will be housed within University housing.