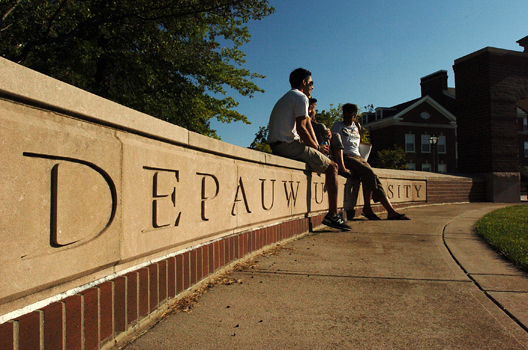 DePauw University's goal of 2,019 donors for its newly structured DePauw Day of Giving was not met, but $505,719 was raised from the 1,879 people who donated throughout the day, according to DePauw University's Alumni Association website. 
On Nov. 13, social media accounts of DePauw alumni, students and faculty were filled with hashtags and posts about All In For DePauw. 
The day consisted of over 50 hourly challenges that took place from midnight to midnight last Wednesday. These challenges allowed student organizations, sports teams and academic departments to earn part of the pledged $75,000 for the day. 
In years past, DePauw Day of Giving was targeted toward graduates of the last decade, or GOLD alumni. However, this year was the first that DePauw opened giving to all DePauw alumni, students, faculty, staff and friends. 
The ability for all to give back to DePauw was a critical part of this year's change in structure. Alumni involved in DePauw's GOLD alumni board thought this change was a positive one. 
"I think it removes confusion when you separate young alums and then everyone else. I think that was a very positive thing that was sort of echoed in the theme of All in for DePauw; it doesn't matter if you graduated in May 6 months ago or six years ago. Today was the day we all wanted to come together," Stewart Burns '13, President of the GOLD alumni board, said. 
Approximately 77% of the money raised this year was donated by alumni, with DePauw parents contributing about 10% of the final total, followed by faculty and staff and students at 6% and 4%, respectively. 
Everyone who gave to DePauw was able to specify where they want their donation to go. Stephanie Grass '12, was able to give to the Rector Scholarship at DePauw, a scholarship that aided her late father's, David Grass '67, education. 
"This year I was able to direct my donation funds to the Rector Scholarship in my dad's memory, and then I shared that on Facebook and I got to see some of his friends and my own classmates do the same and make donations in my dad's memory to specific funds," Grass said. "So to me, that was truly special."
Although the day seemed to go well, the restructured day left alumni hoping for even greater participation in the future. Burns said this year was a "trial year" for All in for DePauw and that the day produced "great successes."   
"I hope and I know that the Office of Annual Giving is open to suggestions to make it better, so I think that's a very positive thing," Burns said. "I think it [day of giving] was successful, but continuing to iterate on it and next year hopefully it's twice as big." 
This story was updated with final numbers on 22 November, 2019 at 11:50AM