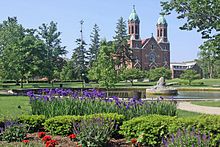 Two winters ago, senior runner Meghan Hennessey found herself glued to her cell phone, awaiting a decision that would indefinitely shake up her final year of college.
Over a livestream, Hennessey and the rest of her track teammates watched as Saint Joseph College's Board of Trustees announced the school would be closing due to financial issues.
Still needing to run the 5k at Hillsdale College's "Wide-Track" Classic, Hennessey had little time to digest the news. While her time turned out to be a personal best, it hardly mattered in the moment. The closing overshadowed everything.
"It was kind of weird not to be there with the rest of the school," Hennessey said, now in her second semester at DePauw University. "Like if you found out DePauw was closing, everyone would go crazy."
A number of students quickly formed the Rogue Pumas, a group who demanded answers from the Board of Trustees to keep the rest of the student body informed. It was a natural reaction, given how most had been kept secret throughout the school year, according to Hennessey.
The morning of the decision, students had found a page on Marian University's website centered around helping St. Joe students with the transfer process. Marian quickly removed the page, but it was too late. Thanks to shared screen shots, the majority of the St. Joe student body knew what was coming.
Hennessey, though, would not be the first St. Joe athlete to ultimately find DePauw. Junior linebacker David Cory had left the school nearly two years before its closing in search of better academics.
"I was shocked at first but could see it coming in a way," Cory said, who recorded 19 tackles for the Tigers this season. "I still had several good friends playing there and most of them went to play somewhere else, but a few gave it up for good."
Some students took an entirely different route. Because of an accelerated graduation for those with enough credits, Hennessey saw many of her friends cut their college experience short.
But Hennessey still wanted to run.
And so began the plethora of college visits and applications which was a process Hennessey did not expect to return to until graduate school entered the picture.
"It really sucked… Trying to enjoy a last semester with your friends at your school, and at the same time, trying to find a new school," Hennessey said.
While many students spent their final spring break relaxing, Hennessey spent the majority of it on college campuses; one of them being DePauw's.
Wanting to make the right choice, Hennessey ultimately held out on her second college decision until late in the second semester. It helped that her sister, Sarah, would be a familiar face, as the current first-year picked DePauw as well.
Although St. Joe hopes to reopen in the future, Hennessey and Cory are content to finish their collegiate careers in Greencastle.
"DePauw has given me a better opportunity for my future endeavors," Cory said. "The balance of a great education, still being able to play the game I love and the social life here is why I am happy with my decision to come here."