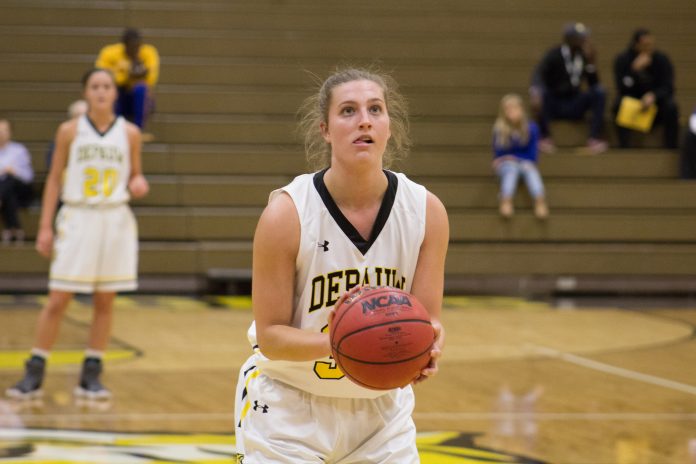 An early lead and solid defense by the DePauw women's basketball team gave them their 18 straight win at the hands of conference rival Denison on Feb. 7. The win also gives them a share of the North Coast Athletic Conference (NCAC) title which is the team's sixth in seven years.
The Tigers did not trail at any point in the game, as they ended the game with a 75-43 victory. The win bolstered their season record to 22-1, while Denison's record dropped to 10-13.
The Tigers got off to a quick start, opening the game with a 7-0 run in the first two minutes of play.
With staunch defense and strong offensive play from the starting guard duo of sophomore Sydney Kopp and senior Emily Budde, the Tigers ended the first quarter with a 25-10 lead. Budde and Kopp combined for 15 of the team's 25 points in the quarter."We put into action many things that we have been really working on and drilling in practices," said Budde.
First-year forward Claire Keefe and junior guard Maya Howard continued the Tigers' charge throughout the rest of the game, as the Tigers pulled away from their opponent in the next three quarters. Keefe ended the game with 12 points on a perfect 5/5 shooting from the field and 4 rebounds, while Howard's final stat line was 12 points, 6 assists, and 4 rebounds.
Senior forward Kylie Morris is proud of how the team shared the ball and executed their offense. "We also did great at working together on keeping the pace of the game and the tempo we played at under control," said Morris.
The Tigers' success in this game, and much of their success from this season, could be attributed to the team's defense prowess and rebounding ability. They were able to limit Denison to a mere 27.3 shooting percentage and were able to outrebound them 43-26.
Now, the team shift their focus to their final two conference matchups before the North Coast Athletic Conference (NCAC) tournament. They will travel to Gambier, Ohio for a tough match-up against an 18-4 Kenyon team on Feb. 10, and will end the regular season at home the following Saturday in a game against Oberlin.