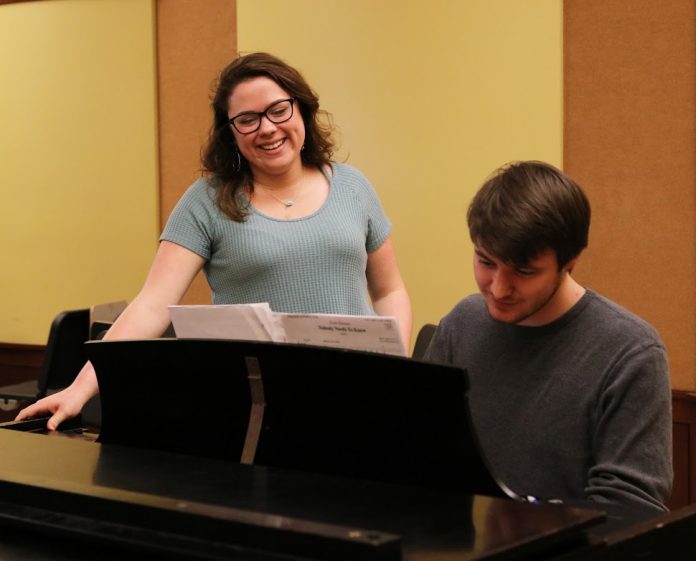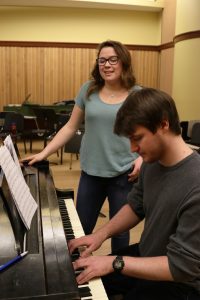 Similar to notes on a music staff, the progress of the 21st Century Music Initiative (21CM) has had its highs and lows.
"I think in the last year or two years, we've gotten ourselves 90% of the way where we need to go," said 21CM director David Rabideau. "This last 10% is always the hardest."
DePauw President Mark McCoy, formerly dean of the school of music, originally pitched the idea in 2014 with the intent to bring classical music into the 21st Century, and teach students how to market themselves as both musicians and entrepreneurs.
Implementing a new curriculum based around a multi-faceted goal is easier said than done, especially when few other music schools have taken a similar path.
"There's no map to this thing. DePauw is the Lewis and Clark out there, working to change a whole profession," Rabideau said, sitting in his office at the School of Music. "I care deeply about that, and so does everyone in this building."
Rabideau was brought on in the fall of 2015 to lead the program that requires music students to take an extra four courses and three electives throughout their time at DePauw. Courses include State of the Arts and Music Entrepreneurship, a class Rabideau is teaching the junior class this semester.
While many have applauded the initiative's intentions, some students are not entirely sold on its requirement in the music school.
"The 21CM is more, 'Okay, if you're not going to be a great orchestral musician or opera singer, what are some ways you can make a living by still being a musician?'," said sophomore violinist Jack Hallier who has no plans to pursue the music business as his main career after DePauw. "If people could choose to take that route, I think it'd be a much better option. Because for me, I'd rather just focus on getting better at the violin."
And, just as the initiative's curriculum over the past three years has required molding, the "complete re-imagining of the skills, tools, and experiences" that the program's website advertises has put students through an entirely new learning curve.
Junior Zoë Yeshayahu recalls the challenges she and the rest of the current juniors faced as first-years, a time when they were already being introduced to less familiar topics such as musicianship and music theory.
"My freshmen and sophomore year were kind of a mess because the curriculum was really off-balanced. A lot of the classes were thrown together last minute," said Yeshayahu whose junior class was the first to officially enroll under the initiative.
Yeshayahu said the initiative has since improved immensely over the past two years, especially with the school bringing in new faculty who have a greater understanding of musicians in the 21st century.
The program has also been difficult for double-majors, a problem that has been voiced since the initiative's start. Students like Hallier, a Management Fellow and Economics major, have often found themselves pushed to the absolute max on a daily basis.
"My days are pretty crazy. I'm up early and go to bed late with mostly school-related stuff all day. It's just more things to do," said Hallier. "I do enjoy it, I love playing… There are some things I don't enjoy but I have to look at the bigger picture and tell myself it's all worth it in the end."
With DePauw's music school sharing the campus with a liberal arts college, Rabideau understands students' concerns about opportunities outside the Green Center for Performing Arts and wants to help in any way he can. "The first thing I'd want [students] to do is come in and knock on my door," said Rabideau whose own daughter is currently double-majoring in music and psychology as a sophomore at Furman University. "I have an enormous amount of empathy for how much work it is."
21CM's next big step will be to implement the initiative's fourth and final course, "Practicum," for the senior class next fall. Eliza Brown, who will teach the course, hopes students will find practical application within the material as they prepare themselves for careers outside DePauw.
Brown plans to connect students with professional musicians who are still in the early stages of their careers, as well as to have seniors go beyond their personal state and learn about society's relationship with musicians.
"I'm interested in our thinking going beyond the individual, and to think about how public policy and cultural attitudes affect our industry, and to have there be an advocacy component," said Brown. "We can learn about how to be savvy within the conditions of the industry, but we can also try to change the conditions of the industry."
With midterms approaching, Rabideau encourages students, particularly first-years new to the initiative, to trust a program that is moving in the right direction despite its challenges.
"It's not perfect yet," Rabideau said. "But I'd put it up against the other 1,599 schools of music. We're leading the game."