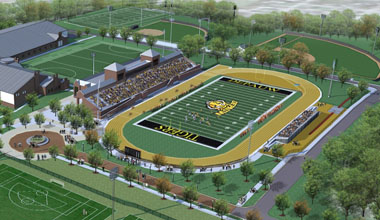 Women's Cross Country
Head Coach: Kori Stoffregen
Assistant Coach: Megan Mannering
Following a season where injuries interfered with high hopes, Head Coach Kori Stoffregen is going into the women's 2018 campaign with a week by week mentality. Airing on the side of caution, he doesn't quite know how good this team can really be when the NCAC Championships take place in October, and will have a better idea in a month or so after they have a few meets under their belts. Coach Stoffregen is, however, very hopeful with how much potential they have a group. "We're already seeing some good things, like upperclassmen like Gabby [Coffing] and Tori [Flowers] are running well and healthy, and we get Haley [Thompson] coming off a hamstring injury," said Stoffregen. When asked about freshmen who can contribute to the team this year, "definitely Jenny Nolls, a very talented runner, and is already showing it." He also thinks first-year Kate Hennessy can creep into the varsity top 7 eventually. In terms of season-long goals, Stoffregen is hoping to be in the top 3 in the conference, and top 10 in the region.
Men's Cross Country
Head Coach: Kori Stoffregen
Assistant Coach: Megan Mannering
After a riveting season filled with ups and downs, and an eventual 18th place finish at NCAA Division III Nationals, Coach Stoffregen is very excited about what the men can accomplish this year. With multiple runners injured at the start of last season, Stoffregen is excited to see how many runners are not only healthy, but also how many put in a solid base of training over the summer. Speaking about the team as a whole, he is very eager to see who can fill the void of graduated seniors from last year, "We've got a nice mix of some seniors who can step up and fill those spots, those gaps up, and then to have some freshmen with potential is a good thing." Stoffregen again has high hopes, and thinks the team has the potential to as good as they've ever been. With four returning runners, Paul Christian, Zach Batt, Cole Martin, and Kyle Munz, from last year's success story, the team looks poised to repeat as conference champions.
Volleyball
Head Coach: Deb Zellers
Assistant Coach: Alicia Wood
First home match: 09/14 vs. Muskingum
Coming off an NCAA Tournament birth and narrow defeat to Ohio Northern University last year, head coach Deb Zellers and the volleyball team are very excited to get started this season, as they look to improve on what was a very successful 2017 season. The Tigers have multiple starters returning this year, like senior captain Suzanne Peters, and junior captains Morgan Stearley, and Meaghan Etling. Junior Liv Hartman is also returning after a very strong season. Coach Zellers is also very optimistic of the plethora of youth on the team, adding, "Having a young roster can be a strength of a team. It creates a lot of competitiveness that helps to drive the overall level of the team higher." As the first game approaches, Zellers and her team believe they have what it takes not only to repeat their regular season success, but have a second straight NCAA Tournament birth, and go even further this season.
Men's Soccer
Head Coach: Brad Hauter
Assistant Coaches: Jake Pezzuto, Keagan Angevin, Adrian Ables
Next home game: 08/31 vs. Hanover
For the men's soccer team last year, it was all about consistency as they sported a respectable 6-6-4 record. This year, however, Coach Brad Hauter and his men are making many improvements to their game. Hauter said that there's also room for improvement, and the team needs, "A sharper attention to detail, especially in both boxes." Even after losing five seniors from last year's team, everyone remains optimistic and excited about what the season holds. It certainly won't come without hard work and dedication. Hauter emphasized the importance of mental toughness, saying, "in addition to being a physically taxing game, [soccer] also has many challenges and adversity that require great mental strength to manage." The Tigers definitely have what it takes to be a top contender in the NCAC this year, and hope to play their style of soccer as they continue their season
Women's Soccer
Head Coach: Kristina Corona
Assistant Coach: Kayla Grimsley
Next home game: 09/08 vs. Capital
Coming back from a disappointing season, a new coach and new atmosphere is just what the women's soccer team needed, as head coach Kristina Corona and her group are looking to bring women's soccer back to where it should be: at the top of the NCAC. Although that's a long term goal, Coach Corona is still very optimistic, and excited that she's been gifted such a great team for her first season under the help. "We have a dedicated, talented, and hard working group of 31 young women," she said about her squad. "They are eager to learn, coachable, and committed to getting better every day." It'll also be exciting to see the combination of experience and youth and energy, as they sport a balanced group of newcomers and returners. Corona praised the upperclassmen, saying, "they all lead by example and put in the work on and off the field," and adding that they "all bring different qualities to our program which adds to our depth and overall team dynamic." Looking to be over .500 this year, this team is talented and should be exciting to watch during the season.
Women's Golf
Head Coach: Vince Lazar
Assistant Coach: Greg Jones
First home match: 09/29 vs. Dan Quayle Collegiate Classic
After a 10th place finish at the NCAA Championships, the women's golf team is looking to improve upon that finish, with the top five golfers from that team returning for another season. Not only do they have the talent to achieve at a high level again, but they have the experience, and that's something Coach Lazar stressed when he was asked how they'll be successful this year. He is also impressed with the incoming freshmen, saying, "All of the 1st year players, in high school and in junior/amateur tournaments prior to coming to DePauw have demonstrated the ability to score at a level that could help us." With the combination of experience, as well as a solid incoming class, look for the women to not only return to the NCAA Championships, but again receive top 10 honors.
Men's Golf
Head Coach: Vince Lazar
Assistant Coach: Greg Jones
First home match: 09/29 vs. Dan Quayle Collegiate Classic
Following a season where they finished 5th at the NCAC Championships, the men's golf team is looking strong as they begin another campaign under head coach Vince Lazar. With no seniors on the team this year, and only one graduating senior last year means the Tigers are not only ready for this season of golf, but also years to come. With a boatload of young talent and collegiate experience, Coach Lazar hopes that each player will be "Working beyond what is asked of them in practice" to achieve the level of golf that each member of the team believes they can play. Lazar is also very optimistic as he looks at the roster and sees many underclassmen and incoming freshmen. "Hopefully the roster size and talent will make the team qualifying more competitive," he stated. When asked about his team's goals for the season, he kept it sweet and simple: "The overall goal is for each player to improve." Not only will this group of men be exciting to watch this year, but for years to come.
Men's Tennis
Head Coach: Scott Riggle
Assistant Coaches: Andrew Gregory, Bill Pendl
First home match: 09/08 vs. DePauw Fall Invitational
After a season where the men's tennis team finished 5th at the NCAC Championships, head coach Scott Riggle expects a lot from this well balanced group. "It starts with leadership," Riggle said. "And Greg Frauenheim and Alex Bertolini are both proving that for us in the early going." Although he values the senior leadership, he is counting on everyone to play a key role moving forward. From the upperclassmen to the freshmen, he believes that everyone can contribute to help make this season one of the most successful in recent years. One thing that will be critical to their success, however, is level of fitness and conditioning. "It's very important in tennis to be able to withstand long points, long matches, and a long season and still be able to get set up well for every ball and have explosiveness in third sets," Riggle explained. As his team begins another campaign, his team expects high things from themselves as well. Their goals are to not only win conference this year, but make it to nationals and compete at a high level.
Women's Tennis
Head Coach: Scott Riggle
Assistant Coaches: Andrew Gregory, Bill Pendl
First home meet: 09/01 vs. DePauw Fall Invitational
As Scott Riggle enters his 18th year as head coach of the women's tennis team, he has high expectations for this year's team. Only losing two seniors last year, many of the players who fought for that fourth place finish at the NCAC Championships last year are returning for another season. Along with experience, Riggle's team also has a lot of youth, and he said he expects, "that their experience would translate not only to being able to bring their best tennis this year, but also to helping the younger players do the same through leadership, by example as well as by voice." Along with the incoming freshmen, there's also a transfer student being added to the squad, junior Emma Love. Coach Riggle also added that his team has many goals this season, like winning conference, and he expects each player to, "represent our team in an exemplary manner on and off court so that they compete with a sense of pride." With a plethora of experience, as well as a lot of young players, the women's tennis team certainly looks ready to improve upon last year's successes.
Football
Head Coach: Bill Lynch
Associate Head Coach: Scott Srnka
Assistant Coaches: Brett Dietz, Jay Hood, Tim Hreha, Justin Jefferson, Clay Mannering, Matt McCarroll
First home game: 09/08 vs. Central (Iowa)
Following yet another 8-2 season, and a narrow defeat to Wabash in the Monon Bell game last year, head coach Bill Lynch is looking forward to see if his team can achieve at a high level again this year, with the ultimate goal of winning conference and making the playoffs. Entering the season with 25 seniors, most of which are on the defensive end, Lynch said that he is looking forward to seeing how the experience can help his team succeed at a high level this year. "One of our strengths is our running back position," Coach Lynch explained. "We have a lot of experience [there], juniors and seniors who have played a lot of football for us." Along with experience in the skilled positions on the offensive side of the ball, the defense looks just as strong, if not stronger. "I think if we are playing a scoring games, that's probably in our favor, because I think our defense is our strength," said Lynch, but that's no knock on the offense. Look for senior quarterback Matt Labus to lead the team, as his season ended early last year with a torn ACL. As the first game looms near, the Tigers are confident and ready to go.
Field Hockey
Head Coach: Lauren Thomas
Assistant Coach: Tamara Mills
First home game: 09/05 vs. Denison
With a new head coach Lauren Thomas leading the Tigers' field hockey team, the season holds lots of promise as returning players look to improve on last year's exit in the semifinal game of the NCAC Championships. Coach Thomas is very excited to get to coach this group of women, praising their work ethic and determination to succeed. She's also ecstatic about the incoming group of 10 freshmen! "They have all contributed to our competitive and skilled culture so far, and I see them continuing to help our group as a whole make great strides towards success leading into our 2018 season," Thomas admired. Her and her team have high expectations, especially after a solid summer of training. Thomas said they want to, "earn as spot back in our conference championship game and to then earn a spot in the NCAA National Tournament." With a strong group of upperclassmen leading the charge, pieces seem to be falling into place as the women get ready to start the season.