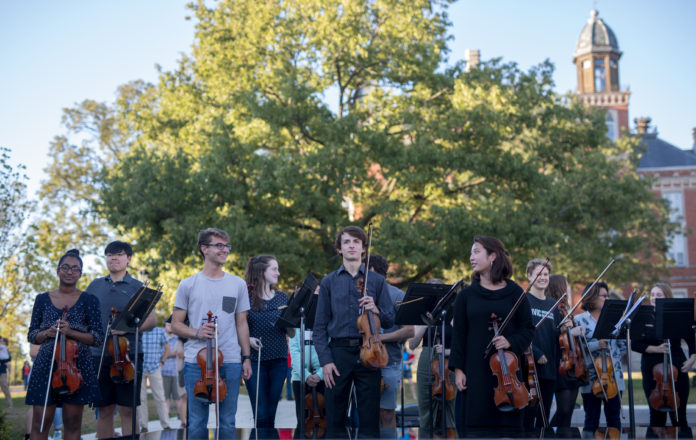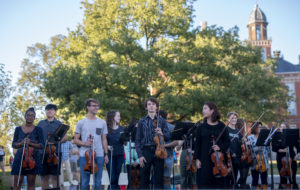 Yo-Yo Ma surprised students and staff at the Campus Farm dinner, on Sept. 29 at Stewart Plaza, a day before he performed at the Green Center on Sept. 30.
During his pop-up, Ma performed with DePauw University School of Music (SoM) students. Despite a half-full plaza, students who were performing with Ma had an unforgettable experience. SoM senior, Erin Lupardus, reflected on what it was like to perform with Yo-Yo Ma. "Surreal. You spend your whole musical life listening to his recordings in awe and appreciation, and then all of a sudden he's a few feet behind you performing with you," Lupardus said. "We are very fortunate to have had the opportunity."
Another music student, junior Jackie Robertson, is also grateful for the opportunity to play alongside Ma. "How many people can say they've played alongside Yo-Yo Ma? I'm truly grateful to all those who made this experience possible." Robertson said. "It was exciting and exhilarating playing alongside a world-class, legendary cellist, especially considering his mission to unite people through our collective love of music!"
Ma and the Chicago Civic Orchestra performed together in Kresge Auditorium a day after his pop-up concert. Ma and the Orchestra received standing ovations after every piece on their setlist. Dave Roberts, professor of Biochemistry, who heard Ma before, was delighted to see him at DePauw. "I always enjoy Yo-Yo. He brings joy to any room he plays both in his demeanor and his sheer talent. He's an amazing ambassador for the music community," Roberts said.
The positive reactions to the performance were not just felt by staff but students as well. "Getting to witness and perform with such a legendary musician was both incredibly rewarding and deeply inspiring. Whenever he engaged the music you could tell he was drawing from a deep well of experience and musical understanding," said SoM junior Joseph Messick. "Despite all that he was neither intimidating or unrelatable; but rather quite humble and friendly. It was a fantastic experience that showed me how much more I can improve as a musician and I won't soon forget it!"
Ma's visit had especially profound effects on students who performed with him. "Playing with Yo-Yo Ma was a much different experience than I had expected. He was one of the most enjoyable people to play because of the energy and enthusiasm he brings to the ensemble," said senior SoM student Thomas Ring. "It made me rethink a lot of what I think of the classical music world."
Ma has been involved with DePauw for several years now. "He believes in DePauw and he believes in the 21st-Century Musician Initiative," President Mark McCoy said. According to President Mark McCoy, Judson and Joyce Green are to thank for introducing Yo-Yo Ma to DePauw.
Ma was a part of the opening of Music on the Square, and he is also a SoM board member. "That's the amazing thing about him: that for a man of his stature to be able to connect with people consistently at a very personal level, that's just a remarkable skill," President McCoy said. "Yo-Yo is not just one of the most talented, one of the most brilliant, he is one of the nicest people I've ever met."