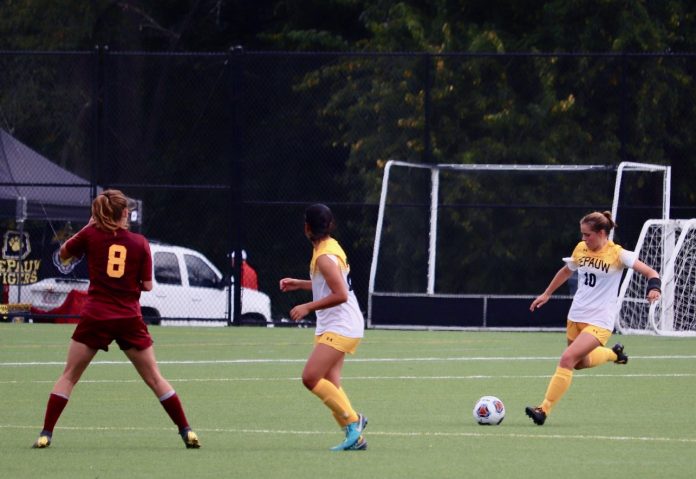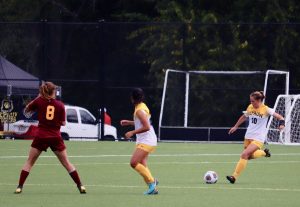 With family weekend at DePauw in full effect, the Tigers had a huge amount of support in the stands at Reavis Stadium to watch them win their first North Coast Athletic Conference game against Oberlin College 2-0. 
The Tigers were anxious but full of excitement about their first NCAC matchup. Junior Mary Goodale said, "Being the first conference game, there were definitely a lot of nerves, but everyone was excited and ready to play. The energy in the locker room before the game was awesome, and I think it really carried us through the entire game."
Less than 10 minutes into the game, Goodale found herself taking on a defender in Oberlin's 18-yard box. Moving past the defender, Goodale could have easily decided to take a shot on goal. However, unselfishly, she looked to the center of the box and played a perfect ball to the feet of junior Alex Wendt. Wendt successfully put the ball in the back of the net, giving DePauw a 1-0 lead early on in the matchup.
As the first half continued, DePauw proved to be the stronger team. The Tigers won the majority of loose balls out of the air, maintained possession on both ends of the field and diligently worked to create scoring opportunities. By the end of the half, the Tigers had taken 14 shots, while Oberlin had only taken 2. 
In the second half, DePauw continued to put a great amount of pressure on Oberlin in all aspects of the game. Towards the end of the game, the Tigers created a hectic situation in Oberlin's goalie box, resulting in an Oberlin own-goal, the ball deflecting off of an Oberlin player and landing in their own net, advancing the score to 2-0. 
When asked about how it feels to win their first conference game of the season, Goodale said, "It's absolutely the best feeling, conference is what we've been working toward the entire season and to start off with a win is just awesome. Hopefully the energy from this win will allow us to make the most of this week's practices because our upcoming game on Saturday against Wooster is going to be a battle."
The hard work of DePauw's defenders and freshman goalkeeper Reanna Stiehler allowed the team to secure their fourth shutout of the season and first win of the NCAC season. Stiehler said, "I thought the game was the best collective game the team has had so far this year. Going into the next game we definitely want to keep going with the energy and team chemistry we had yesterday."
Up next for the Tigers is an away game that will take place in Wooster, Ohio against the College of Wooster on Saturday, Oct. 5 at 3pm.