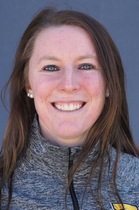 The DePauw women's lacrosse team will be led by a new head coach as the season begins this Saturday, Feb. 23 at the University of Chicago. Coach Tucker Glass announced his resignation to the team on Jan. 24, and assistant coach Jillian Howley was named new head coach for the 2019 spring season the following day.
Howley is excited about being in charge, but also knows that she has a lot of work ahead of her.
"We just have to take it day-by-day, rather than getting too far ahead of ourselves," Howley said.
A team meeting was held by Glass the day before he left for his new coaching position at Bard College. Sophomore midfielder Caleigh Ranjo described the change in coaches as "completely unexpected;" however, she remains enthusiastic and optimistic about the upcoming season.
"Our team is going to have to work harder, put more effort in, and organize things ourselves to help Coach Howley," she said.
Junior Kate Flynn believes that the Tigers handle change well and have strong leadership in their upperclassmen.
"Everyone is really buying into our team goals and is really excited for the season to start. We have a lot of potential and Jill has been really positive with us, and believes we will be successful this season," Flynn said.
Coach Howley described her feelings as "exhaustingly exciting." She gives credit to the DePauw Athletic Department and Stevie Baker-Watson, director of athletics, for their overwhelming positivity and support. Howley's biggest goal for the season is to be able to connect with each and every player one-on-one.
Howley knows this is some adversity for the team to overcome, but she is focused on maintaining energy with the team heading into the season.
"No one cares how much you know until they know how much you care," she said.
Glass could not be reached for comment.
The team begins their season this Saturday at 2pm when they visit the University of Chicago for the season opener.