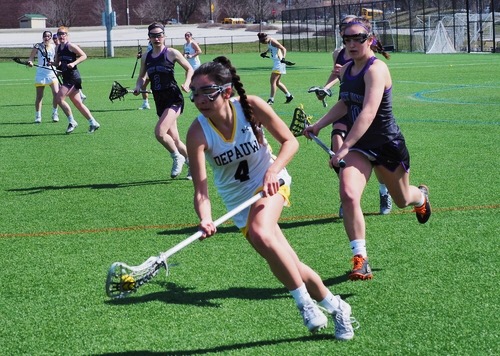 The DePauw Women's Lacrosse team rushed onto the field last week for their first home game against Illinois Wesleyan University. The Tigers took a loss with a final score of 5-19. Fans and athletes were both enthusiastic to see the team play under the lights at Reavis for the first time this season. Around the same time last season, DePauw lost to Illinois Wesleyan with a similar score of 5-17.
First-year Emma Kennedy scored a total of three goals, two of which were assisted by sophomore Sophie Hensley, and the other from a free position shot. Junior Kate Flynn brought high high energy throughout the entirety of the game by scoring a goal with 7:18 left on the clock to make the score 4-19. Still fighting with 27 seconds left in the game, sophomore Grace Clarke scored the final goal of the game off of an assist from Flynn.
Senior captain Erica Rapelje said that the team brought toughness on the defensive end.
"I'd like to highlight Sarah Congress for her constant body defense and great communication," she said, adding that the game was not discouraging for the team, but motivating when thinking about the future of the season.
Rapelje said that Head Coach Jillian Howley and the team have faced many team dynamic changes throughout preseason, but continue to look forward to what they will accomplish this season.
"Playing good teams only makes us better and forces us to work on the gaps in our play. We're taking the IWU game as a learning moment to improve upon in upcoming games," Rapelje said.
This upcoming weekend, the team will travel to Mount Union to face off in their next match on Saturday, March 2nd.