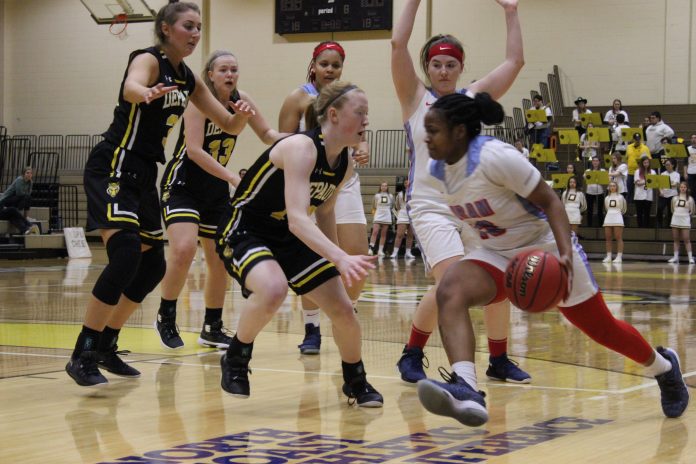 On Nov. 12, the women's basketball team played against Earlham College and won 69-43 in their first home game of the season.
The Tigers are ranked 10th in a D3hoops.com poll and 12th in the NCAA Division III coaches pre-season rankings and have high goals. 
Senior Sydney Kopp scored 17 points followed by sophomore Mya Shannon who scored 12 points during the game and junior Claire Keefe scoring 11 points. 
Before the first quarter was over, the Tigers scored 19 points against Earlham's 6 points. The first 8 points were scored by 4 different players on DePauw's team. 
Looking to the future, the team has high goals set. They want to win the national tournament, but they know it will take a lot of small steps between now and then to get there. 
According to Mya Shannon, "Our goal right now is to really lock into each game and not only come out on top but make each other better in the process." 
Keefe is confident in the team's ability this season and is looking forward to hanging out with her teammates. In regards to the seniors, Keefe said she is, "excited to spend time with our seniors because it's their last season with us and I've loved every second with them" 
Shannon said, "I get to play the game I love with 17 of my friends for the next 4 months and there's nothing better."
The Tigers play again on Nov. 15 against Wisconsin-Stevens Point at 6 p.m. in Wisconsin-Whitewater.