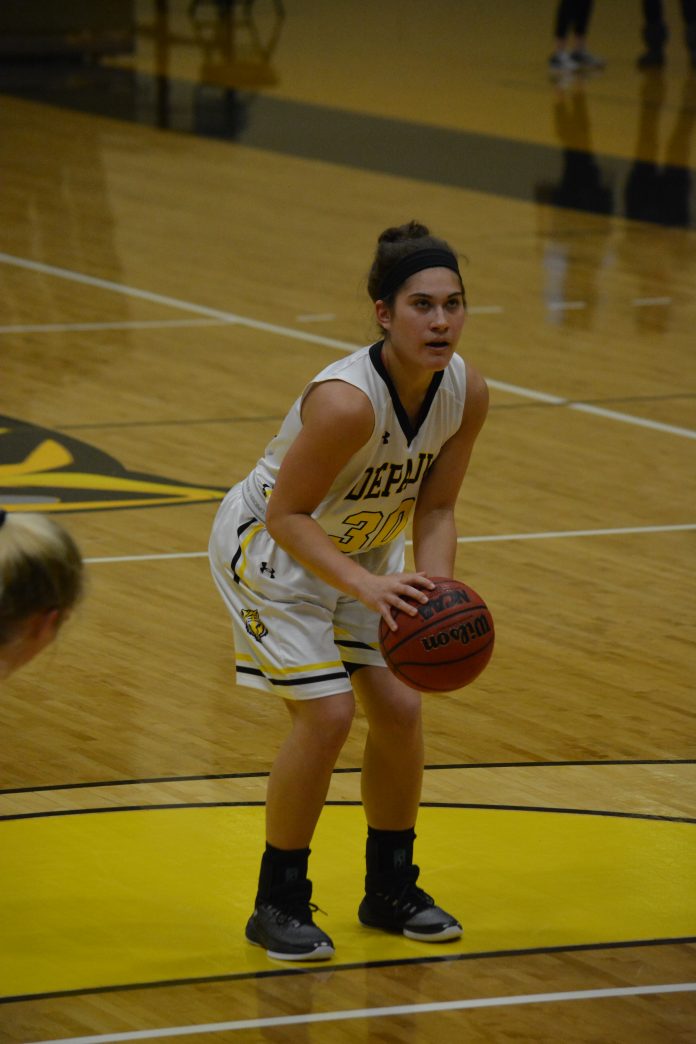 Senior Maya Howard, junior Sydney Kopp and sophomore Claire Keefe combines to score 57 points in DePauw's rout of Ohio Wesleyan University by a score of 85-55. The win extends their win streak to four games.
Ohio Wesleyan scored the game's first two points, but never gained the lead back as DePauw led by as much as 10 points in the first quarter. Three three-pointers kept Ohio Wesleyan in the game during the second quarter, but DePauw's steady scoring held the lead at 10 points at halftime.
Both teams started cold in the second half as the first shot was not made until Keefe hit a layup almost three minutes into the start of the half. The teams stayed relatively even for the majority of the third quarter until Howard and first-year Mya Shannon combined for a 7-0 run to end the quarter and give the Tigers' a 21-point lead.
Keefe finished the game with 19 points, seven rebounds, and three blocks. Kopp finished with a game-high 23 points and Howard finished with 15 points and a game-high seven assists. Cierra Joiner led the Battling Bishops with 15 points.
DePauw dominated points in the paint and second chance points as they outscored Ohio Wesleyan 42-24 and 20-7 in both categories, respectively. They also out-rebounded the Battling Bishops 45-16.
The win improves the team's record to 19-4 overall and 13-1 in the North Coast Athletic Conference (NCAC). Ohio Wesleyan falls to 10-13 overall and 5-9 in the NCAC.
The women take the floor next at home on Wednesday against Denison University.