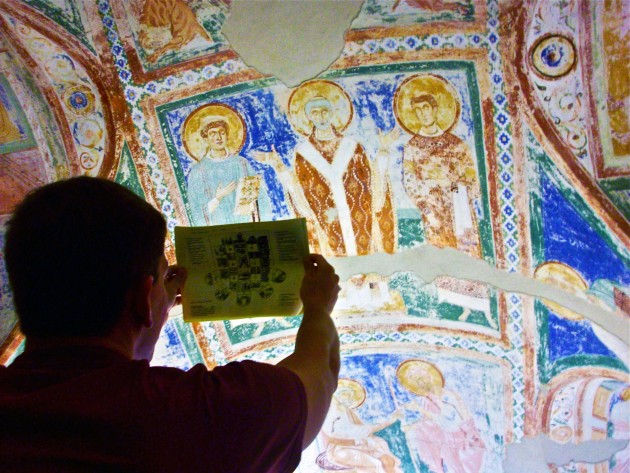 As many DePauw students were welcomed home by familiar sights and sounds, 43 of their peers were greeted by unknown faces in a foreign land they were just beginning to explore.
Although thoughts of winter were far from most students' minds, for these students, Winter Term was in progress.
Two off-campus trips, which qualified for Winter Term credit, took place in May: The Language, Culture and Art History of an Italian Border Region and Bio-Diversity of Western Australia.
Led by Professor Wade Hazel and adviser Summer Drake, 19 students headed to the Western Coast of Australia to experience a wide variety of biology and geology.
"I thought this would be a great place for DePauw students to go," Hazel said. "It is a super place for looking at biological diversity. There are just lots of different plants and animals."
Landing in Perth after some slight travel delays, the group immediately began their adventures in Yanchep National Park and continuing on to Cervantes.
Making their way up and down the west coast, the group visited various national parks, stopping to hike and experience the diverse rocks, plants and animals Western Australia has to offer.
"We experienced a lot of nature that is so different than it is here (in America)," said junior Kelly Reeves. "It's just so different. It's literally halfway around the world."
Students also had the unique chance to swim with whale sharks. Whale sharks can only be found in Ningaloo Reef, where students were snorkeling, between the months of March and June. This limited window made a trip in May that much more ideal.
"Western Australia is a really interesting place biologically and geologically," Hazel said. "There are only a handful of places in the world where you can swim with whale sharks."
Meanwhile, on the northeastern coast of Italy, a group of 24 students was experiencing the Italian culture in a way only a native could.
The group was stationed in the northern island city of Grado where Assistant Professor of Modern Languages Roberta "Francesca" Seaman was born.
Seaman and her husband, Michael, a part-time instructor of classical studies, led the trip.
The Seamans, who organized the trip themselves, will be taking their third Winter Term trip in May this spring.
"We really enjoy teaching the class and feel, since we know the cities and art in this area so well, that we have a lot to offer DePauw Students with this trip," Michael said.
The Seamans' schedule kept students busy from morning to evening studying art and architecture, and visiting a variety of places including seven UNESCO World Heritage sites. All the while, students were treated more as insiders than tourists.
"I enjoyed the town of Grado itself because of the culture," said senior Sam Spahn. "It was no bigger than Greencastle, and something about the small town feel of it made it feel like home, like we were really submerged into the culture."
The course was focused on art and art history as students traveled to important cities and other significant locations in northeastern Italy.
The students were taught the basics of Italian language in order to communicate in a community where very little English was spoken.
"We visited and saw a lot of different pieces of artwork and sculpture in northern Italy," said junior Mark Fadel. "It's an area not really traveled by American students, so we didn't run into a lot of people who spoke a lot of English."
Because the trip occurs during summer break, students have the opportunity to remain abroad and continue traveling without incurring much additional cost. The timing is also convenient for students involved in sports that do now allow them to leave campus during Winter Term.
"I'm a swimmer, and I wanted to go abroad but didn't have the opportunity because I have to be on campus during Winter Term," said senior Kate Morrison.
For many students, Winter Term trips in May provide with an experience and exposure to a culture they would otherwise not be able to discover.
"It was an opportunity to go on a trip that I would not be able to go on on my own," said junior Katherine Hill. "It was a really neat opportunity to see things I wouldn't get to see otherwise."
Western Australia Itinerary
25 May Orientation in Perth &
visit Perth Zoo
26 May Arrive in Cervantes to
explore Yanchep National
Park, Crystal Cave, Koala's &
4WDing at Lancelin
27 May Arrive in Kalbarri
29 May Arrive in Monkey Mia &
Didgeridoo Dreaming Evening
Tour
31 May Carnavon sights & arrive in
Coral Bay
2 June Arrive in Karijini &
explore Karijini National Park
5 June Arrive in Nallan Station
6 June Arrive in Perth
Italian Border Area Itinerary
24 May Arrive in Munich, Ger. &
Grado, Italy
25 May Italian lessons in Grado
26 May Roman Art & Architecture
Excursion in Aquileia
27 May Byzantine Art & Architecture
Excursion in Piran, Slovenia
& Porec, Croatia
28 May Lombard Art & Architecture Excursion of Medieval
Cividale & Villalta Castle
31 May Medieval & Renaissance Art
& Architecture Excursion in
Padua
1 June Italian lessons in Grado
2 June Renaissance Art &
Architecture Excursion in
Venice
3 June Italian lessons in Grado
4 June Renaissance Udine & Art of
Tiepolo Excursion
5 June Explore the Dolomites,
Misurina, Cortina D'Ampezzo
& the Ladin culture
6 June Italian lessons in Grado