When Meg Kissinger first began writing her story five years ago, she wanted to write it as fiction.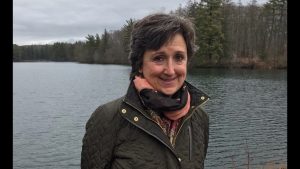 "That didn't go well," she told me in a recent interview. "I'm not clever enough, my imagination is such that I can't do that. I think it's just the reporter in me."
Now Kissinger, a DePauw alum and award-winning journalist, is preparing to release her debut memoir "While You Were Out" on Sept. 5, 2023. The memoir, at once hilarious and heartbreaking, details the struggles of her family through mental illness and the loss of two of her siblings to suicide.
Kissinger, who grew up near Chicago in a family of ten, knew as a child that something was not right. Her mother, described as loving, but distant, would often disappear for days at a time with no explanation. It wasn't until later that Kissinger realized that these absences were because her mother was suffering from severe anxiety and depression. Her father, also, was later diagnosed with bipolar disorder and frequently suffered from violent manic episodes.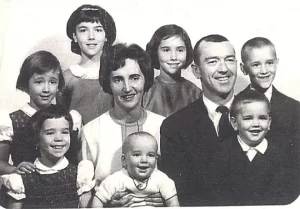 As she and her seven brothers and sisters grew older, Kissinger watched as one by one, they began to struggle with their own mental health. The most prevalent, though, were her siblings Nancy and Danny, both of whom eventually died by suicide.
"What happened to my family, it's pretty unusual to lose two siblings to suicide, fortunately that's not a common event," Kissinger shared.
After her sister Nancy died in 1978, Kissinger's family never truly talked about her death. Her father, concerned that Nancy would not receive a Catholic funeral if people knew that she had ended her life, encouraged the family to say Nancy's death was an accident. It wasn't until after her younger brother Danny died by suicide in 1997 that Kissinger began to consider writing her family's story into a book.
"It really started when my brother Danny died," Kissinger shared. "When he sent me that letter [a suicide note] . . . I knew what he was telling me was that people need to love and understand people with chronic or severe mental illness."
Driven by the memory of Nancy and Danny, Kissinger launched herself into a lucrative 40-year career in journalism, interacting with individuals with severe mental illness regularly. Her stories for the Milwaukee Journal Sentinel, collected from all over the country, earned her several awards in journalism and landed her a spot as a Pulitzer Prize finalist.
But, throughout this career, Kissinger knew "deep down inside" that the story that she really needed to tell was "the one that was closest to [her], the one [she] was too afraid to tell."
After "many, many, many failed attempts," Kissinger enrolled in two college courses about how to write book proposals and how to write a memoir, which proved to be "invaluable" to her throughout the writing process. She also found a therapist to aid her through the painful journey of digging up the past.
"I knew that in taking on this book, there would some tough stuff that I had to stare down," she explained. "I was getting the police reports of my brother and sister's suicides, and I'd be reading the medical records for my dad. . . I knew that I needed to pace myself."
When she mentioned therapy, she laughed, saying, "So what I did was something I should've been doing 30 or 40 years ago, and I enlisted the help of a therapist! When I met with her, I said, 'You're never going to believe this, but I've never seen a therapist!'"
Throughout the process of writing "While You Were Out", Kissinger described feeling "so anxious about hurting [her] brothers and sisters." Fortunately, her five living siblings were all supportive of Kissinger's desire to write their family's story and even helped her collect family mementos and memories for the book. When prompted, Kissinger described her siblings as "charming" and "funny." Readers will likely agree, as the Kissinger family's humor, charm, and quick wit come to life in the pages of "While You Were Out".
Kissinger's memoir briefly touches on her time at DePauw University and as Editor in Chief of The DePauw in 1978. In "While You Were Out", she describes her hesitance to attend DePauw at first, but that she eventually fell in love with the campus.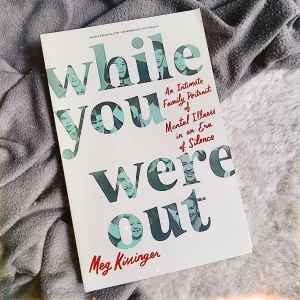 "Four years later, they had to pry me back into the car to take me home, because I loved it so much," she shared, laughing.
Of her time at The DePauw, Kissinger reminisced, "I think that The DePauw, working on the college newspaper, was my saving grace. . . When I think of my college days, I think first and foremost of the newspaper."
She explained that the fall semester after her older sister Nancy died in June of 1978, Kissinger took over as Editor in Chief of The DePauw.
"[The newspaper] was really a great comfort to me," she said, "to be able to pour myself into my work in the newsroom. And I'm very grateful for that."
In the final minutes of our interview, Kissinger shared her advice for any DePauw students struggling with their mental health or with grief: ""Don't be ashamed. Shame kills . . . We are human beings and we are very vulnerable, and if you are feeling shaky emotionally, that just means you're a human being. And don't be afraid of that, don't be afraid to reach out to somebody and talk about that."
She also emphasized the humanity of those living with severe mental illness, stating, "The whole point of this book was to write about my brothers and sisters, and the people I've come to know, too, as a reporter, just as human beings. And all of their, the full spectrum of their humanity."
"While You Were Out" releases to the public on Sept. 5, 2023, and is available wherever books are sold.