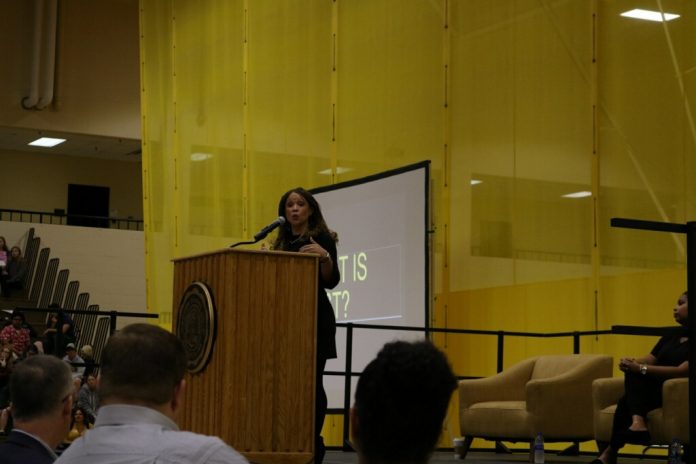 Acclaimed writer, professor, and political commentator Dr. Melissa Harris-Perry opened up this year's DePauw Dialogue 5.0 with her talk, "What Is Just?" Her speech stressed the value of curiosity and courage in achieving productive discourse.
Before diving into her presentation, Harris-Perry directly addressed the possibility of a protest. "I'm down for protests. I won't be mad. If you don't [protest] it means I'm not as interesting as Jenna Fischer." She referenced last year's student-led demonstration during actor Jenna Fischer's Ubben Lecture. She noted she likes protests because she is an advocate of free speech, "I really like free speech, but I like it for everybody."
Harris-Perry asked the audience to be vulnerable, emphasizing that we all hurt and are hurt by people. Included in this vulnerability was asking the question, "What truths are missing?" which means piecing together all of the historical and structural truths of stories, especially lived experiences.
A consistent theme throughout Harris-Perry's talk was the importance of having courage, as drawn from a quote by her advisor and friend, Maya Angelou. "Courage is the most important of all the virtues because without courage you can't practice any other virtue consistently. You can practice any virtue erratically, but nothing consistently without courage."
Some of her presentation slides showed statistics, including the disparity between black and white confidence in law enforcement. Even though the data was "agonizing," Harris-Perry encouraged audience members to be courageous and analyze it.
Harris-Perry spoke directly to DePauw students, sympathizing with them about the tough political and racial climate of their current generation. She commented on how college campuses are often dangerous places, "Our institutions tend to prioritize self-protection over other professed values."
She noted that student affairs are often not focused on kindness. However, to solve this problem, she professed the importance of promoting diverse ideologies, especially diverse political ideologies, within college administrations. "Our brain doesn't need a safe space…we need integrity in our curriculum."
Too often, she said, college campuses advocate for zero tolerance policies against racism and more that never seem to be effective. "I have zero tolerance for zero tolerance policies…You can't invite people to the table and have a zero tolerance policy.
"I really appreciated the impartiality of her talk," said Lauren Kaylor, junior. Kaylor described how Harris-Perry frequently pointed out that multiple discourses could be true at once without negating one truth. "It was refreshing to have a speaker promote intellectual diversity."
The practice of individualized self-care is frequently advocated when discussing social justice. However, Harris-Perry advised audience members to instead practice what she called "squad-care," giving the example of double dutch jump rope where everyone learns and thrives together in community.
Brandon Jordan, first-year, liked how Harris-Perry identified that young people do not come into college inciting racism. He was also surprised when Harris-Perry singled out the administration for how they handled last year's bias incidents, especially because he was not here when they occurred. "It was not at all what I expected when I woke up this morning."
As soon as Harris-Perry's talk was finished, DePauw students, faculty and staff were at their feet in standing ovation. As the day continued, individuals were able to take her wisdom into smaller discussions with the encouragement that no matter what they tackled, all they needed to begin was courage.