On Wednesday, September 6, close to one hundred students, faculty, and art consumers gathered at the Richard E. Peeler Art Center for the grand opening of the exhibition "We Love Having You Here." Curated by DePauw alumni and former Arthur E. Klauser Fellows Ian Brundige '22 and Alyssa Flory '22, the exhibit showcases, "a wide variety of perspectives and expressions of identity through the art available at DePauw,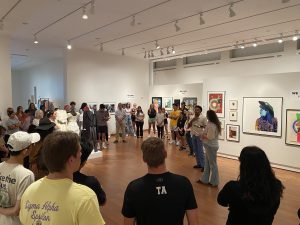 " Flory said. This exhibit exclusively includes pieces from the DePauw archives and collections around campus, representing the diversity and inclusivity of the DePauw community.
The collection, open from 10 a.m.to 4 p.m. Monday through Friday, 11 a.m. to 5 p.m. Saturday, and 1 p.m. to 5 p.m. Sunday in the Peeler Art Gallery, includes various sections all beginning with the title "We love…"
These sections include "mythology", "portraits", "Vanessa", "motherhood", "subverting the narrative", "demonstrations", "masks", "pop art", "representation", "Keith and Juan", "Hoang", "consumption", "party people", and "having you here". Additionally, there are close to one hundred community labels, posted in pink, which provide context and interpretations from members of the DePauw community.
Curator Ian Brundige explained, "I want to highlight the community labels specifically because they show a perspective of the pieces around our exhibit that are unique to members of our community."
He also mentioned the motherhood section was a meaningful and important section to him. Pauline Ota, the co-chair of the Art and Art History department even mentioned this exhibit as "Flory's grandchild," representing the close connection and commitment she had to the central message and pieces included. The goal, Flory says, was to "allow the community to see the gorgeous, weird, and unique objects within our own community. We also wanted to explore new identities and messages for our campus in specific."
Brundige wanted to "show that Peeler galleries are a great apparatus to introduce new ideas which are personal to me and Alyssa, and can relate to others."
Flory was not expecting the large attendance, but saw the turnout as a representation of increased acceptance of identities other than one's own here at DePauw. "To see the identities here in person is very meaningful and a positive trend," she said.
Both curators expressed gratitude towards members of the DePauw community including Christie Anderson, Pauline Ota, Jerry Bates, Alexandra Chamberlain, the women of Delta Gamma, Natalia Márquez, and Misti Scott.