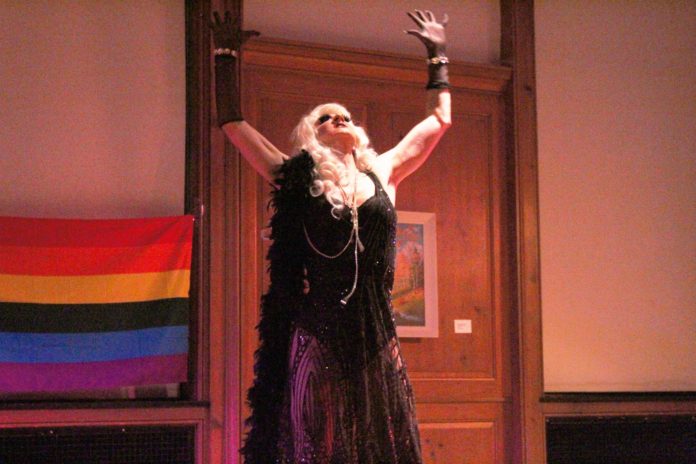 In the UB Ballroom on Saturday night, United DePauw hosted their annual drag ball. Inspired by students and driven without administrative involvement, the LGBTQ community and beyond come bearing leather, high heels, thick eye shadow, glitter, tights, wigs, and nun costumes in a safe space where they can explore the boundaries and definitions of gender.
"It's a game of gender play" said sophomore Josh Selke who MC'd the event with Liz Junior Aguilar for the second time. In addition to student performances, both seasoned drag queens Ophelia Bullets and DePauw alumni Kristopher Schmelzer '12, under the stage name Krissy Feetface, performed for the audience.
Krissy Feetface doesn't consider herself a professional but not an amateur either. Having been participating in drag shows in Chicago for nearly three years, Krissy currently garners a large following with over a thousand followers on Instagram.
Krissy, an extension of her male name, Kristopher Schmelzer, would get thrown around as a silly extension of his own name. "Feetface" has its origins at the Kappa Kappa Gamma Fraternity house, a place Kris spent a lot of his time at while a member of Sigma Alpha Epsilon Fraternity. While a waiter for Kappa Kappa Gamma, Kris and his friends in the house went upstairs and began raiding the house costume closet and adorning him with wigs and funny hats.
"A girl put her feet on his face while he hung from the banister of the stairwell and it stuck," Schmelzer said.
What started as a nickname and inside joke amongst friends, organically became Schmelzer's stage name in clubs all across Chicago.
"When it started to become to do drag I wondered why should I reinvent the wheel. It's so organic to have this strange name. Krissy Feetface," Schmelzer said.
Since Schmelzer's graduation from DePauw, he's seen the queer community become greater and stronger as he comes back annually to perform.
"As someone who was a queer student, the community didn't seem as large and supportive as it is now. Coming back, it's so exciting to see freshmen excited about drag and willing to find out about it. Every year I've come back it's been amazing to see the community at DePauw grow," Schmelzer said.
For Senior Gesenia Viviescas, programming for the queer community is uncommon but welcomed and offers a unique opportunity for students.
"I think tonight offers a space especially for queer students that they don't normally have on a day to day basis." Viviescas said, "I think this is a rare case where the programming in the queer community gets a lot of recognition."
"It's my first drag show," was something that Selke had heard throughout the evening.
"A lot of people were there to be receptive and excited for it and not seeing it as the bizarre but as a fun experience," Selke said.
Energy built during the night, invigorating the performers themselves and quelling their looming stage fright.
"For us students, who don't know anything about performing in drag. It's exciting to hear all these people screaming for you and that fear dissipates," Selke said. "You become someone else."