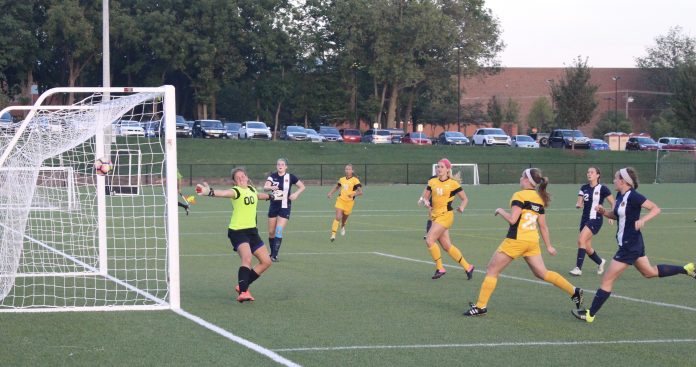 The DePauw University women's soccer team fell to Franklin College, 4-3 on Wednesday night at Reavis Stadium. The Grizzlies handed the Tigers their first loss of the season.  
The Tigers opened up scoring in the game with a goal in the 36th minute from sophomore forward Ali Grimm, her first of the season. Following a turnover from Franklin, junior forward Kathryn Ruark dribbled through the midfield, drawing a foul in the process. However, the referee let play go on, allowing Ruark to pass the ball up to Rebekah Crone. Crone then passed it in front of the goal to Grimm, who slotted it through with a near-post finish.
Although DePauw had gained the early momentum, Franklin quickly responded with a goal from Taylor McDaniel three minutes later, and DePauw would go into halftime tied 1-1.  
Franklin got off to a quick start in the second half, adding another goal at the 50 minute mark from junior Clare Lenart, but the Tigers promptly countered with an equalizer from Kathryn Ruark.  Ruark dribbled through the right side of the box, outpacing her defender and shooting it past the keeper for her fourth goal of the season.  She was assisted by sophomore Rebekah Crone, her second assist of the game.
After DePauw leveled the score, they were unable to keep up the pressure on the Grizzlies, as they let in another goal, this time from Franklin's Haley Lowe at the 61minute mark.  
Down 3-2 with less than a half hour to go, DePauw pressed more players forward, and as a result were vulnerable in the back. Sophomore Maddie Fleet scored Franklin's fourth and final goal with 13 minutes to play.  Although senior goalkeeper Riley Riordan allowed four goals, she also made five saves, including several breakaway one-on-one stops.  
The Tigers came back and scored less than a minute later, with a goal from midfielder Bridget Kirby, her first goal of the season.  However, they were unable to add a fourth goal in the closing minutes.
The team was clearly frustrated with the loss to the Grizzlies. "It's definitely a disappointment, this is a team we should've absolutely beat," said senior captain Jen Dimos. "We have to change our mindset; we're not the underdog anymore. Everyone is going to want to destroy us, so I think we need to adjust how we go into games."
Although the Tigers were faced with a tough loss, there were some bright spots.  "We had some players who came in at key moments and stepped up and played really big minutes," said head coach Megan McCormick.  
Rebekah Crone was one of those bright spots. She had two assists and many other key passes, but she, too, felt like the Tigers could've performed better.  "Coming into this game, obviously we were 4-0, and I think that it went to our head a little bit. We're just going to be focused on practice and the games coming up this weekend."
This weekend, the DePauw women's soccer team will play two games at Illinois Wesleyan on Saturday at 3 p.m. CDT and Sunday at 5:30 p.m. CDT.