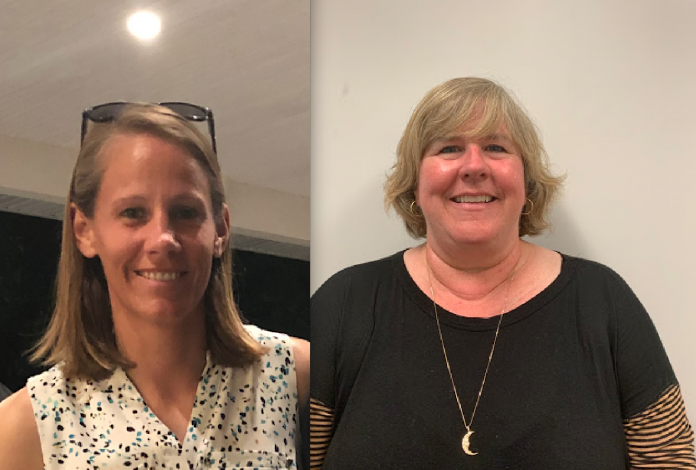 This year, DePauw Athletics is welcoming two new members: Anne Moelk will be the new head women's lacrosse coach and Cristin Allen will take the reins as the head women's soccer coach.
Anne Moelk - Women's Lacrosse
Anne Moelk is a 1992 graduate of Denison University. She previously coached at Ohio University and currently works as a recruiting coordinator for the Indy United Lacrosse Club. 
Moelk's new position as head coach marks her first return to full-time coaching position since her tenure at Ohio University ended in 2002. 
During her time away, Moelk pursued a Juris Doctor degree and occupied a variety of administrative positions in higher education. Most recently, she worked as the director of student support and Title IX coordinator at the University of Indianapolis.
Although she may have left full-time coaching, Moelk feels confident in her ability to lead DePauw's team because she stays current with lacrosse trends and maintains a network with other coaches. 
"I never really left coaching," Moelk said. "I am a lifetime fan of the game and stay in touch with my friends in the coaching world." 
The position will also mark Moelk's first coaching experience at the Division III level. Moelk said this affords her more flexibility with recruitment and regulations than her previous job at Ohio University's Division I program, something she looks forward to embracing.
Moelk will be the fifth head women's lacrosse coach, something atypical of a program that is entering its seventh season.
This season, Moelk hopes to get every member of the program on the same page. 
"I hope to develop a culture of communication, trust, teamwork, hard work and a winning spirit," Moelk said.
Moelk emphasized she is most excited to work with the team itself.
"During the interview process I was so impressed with their drive to be great. They want to have great relationships between themselves and the coaching staff, they want to learn and they want to win."
Cristin Allen - Women's Soccer 
Cristin Allen is a 2002 graduate of Belmont University. She previously coached at Vanderbilt University and most recently completed a tenure as head coach at Franklin College.
Allen described DePauw as a better fit for herself and believes her new position will help her to grow more professionally.
For the upcoming season, Allen emphasized a desire to focus on team culture. "Better cultures make better teams and better teams win more," said Allen.
In addition, Allen noted that this will require some integration with the existing team members. "We've got to establish and build upon the culture that has been built."
Allen mentioned that she had already sat down individually with each of the players to get a sense of their personalities and aspirations. "I know that they are really good people," Allen said.
Allen also expressed optimism about the upcoming season and the team's potential for it. 
"The talent is there for us to be really good," she said. Talent is a strong complement to Allen's other key desire for the season: "To win, always."