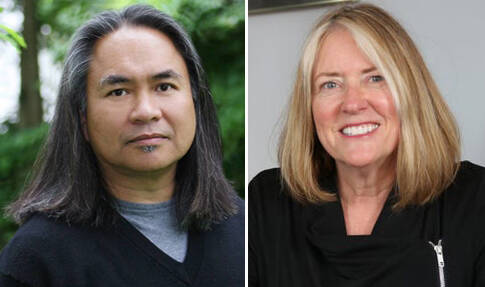 Eugene Gloria and Chris White took home awards for poetry and fiction.
Gloria, the John Rabb Emison Professor of Creative and Performing Arts, won the poetry award for his collection of poems Sightseer In This Killing City. The collection of poems is set in the aftermath of presidential elections in the U.S. and Philippines. Of the collection, Indiana Humanities, the organization in charge of the awards, said it is "an argument for grace and perseverance in an era of bombast and bullies."
Gloria said, "A little bit of the book is trying to capture the sort of collective grief that one feels with this sort of new reality that we're experiencing."
This is Gloria's fourth book of poems. My Favorite Warlord  published in 2012 won the Anisfield-Wolf Book Award, and  Drivers at the Short-Time Motel  published in 2000 won a National Poetry Series selection and earned the Asian American Literary Award.
Gloria hopes that with this being an Indiana award his work will be able to reach a larger local audience.
White, professor of English and associate chair of the English Department, won the fiction award for her novel The Life List of Adrian Mandrick.
The novel follows Adrian Mandrick, a pill-popping anesthesiologist and avid birder who embarks on a quest to find the extremely rare Ivory-billed Woodpecker only to become stranded in the thick swamplands of Florida's panhandle.
White said part of the inspiration for this story came from someone sitting next to her on a plane ride. She said, "They told me the story of a man who is a top level birder who takes his wife on a trip to find a bird and stops at the gas station and then forgets her there, just keeps driving for about an hour and a half."
While this is White's first novel, she is already an award-winning playwright and screenwriter. Her play Rhythms won the Helen Hayes Award winner for Outstanding New Play, and Weasel in the Icebox, a feature length screenplay, won an Award of Merit at the Women's Independent Film Festival in Los Angeles.
Each winner received $5,000, a hand-crafted limestone award and the opportunity to make a $500 donation to an Indiana library of their choice. White and Gloria both chose to donate their $500 to the Putnam County Library.
For White, choosing which library was easy. "They have amazing programs. So this can be any help in furthering their efforts, I'll be thrilled," White said.
The honorees will also have the opportunity to participate in a statewide tour to connect with readers, teachers and students in 2021.