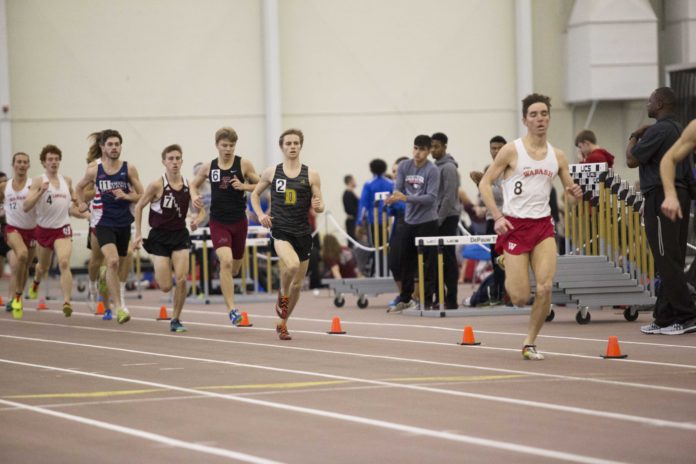 The DePauw men's and women's track teams did not disappoint this past Saturday as they competed in the DePauw Indoor Classic at the Hollensteiner fieldhouse.
Both the men and women took another step in preparing for the outdoor season by finishing in second place out of nine teams respectively.
The DePauw men totaled 89 points, which landed them right behind Wabash College's 115 points at the Indoor Classic. Sophomore Zach Batt led the Tigers by collecting a first place finish in the mile in 4:19.59. Another strong performance brought by the Tigers was the men's 4x400 relay. The Tigers won with a time of 3:31.75. Sophomore Johnny Miller was second in the 400 meter in 51.56 seconds, racking up 10 points after also placing seventh in the 200 meter with a time of 23.69. Junior Nate Baker also totaled 10 points with third in the shot put of 13.47m/44-2.5 and a fifth in the weight throw, with a distance of 14.51m/47-7.25.
Another third place finish was from first-year Jordan Booker in the 200m with a time of 23.47. Booker totaled 10 points after placing fifth in the 400m as well, with a time of 52.23.
First-year Stephen Bradley enjoys the competition of competing against Booker. "Watching someone succeed in my events pushes me to want to be better," Bradley said. "I have a lot of work to do, but having someone like Jordan Booker to look up to will help me get to where I want to be."
Meanwhile, the women finished with 80 points, 11 points behind Bellarmine University. DePauw earned two individual wins in the process of finishing in second place in the Indoor Classic. Two senior distance runners gave DePauw an enormous boost. Senior Lois Miller won in the 5000 meter run with a time of 19:18.65, and senior Claudia Monnett won in the one-mile run with a time of 5:07.01. Miller blew away her components by finishing 12 seconds ahead of second place.
Even though there is progress to still be made, head coach Kori Stroffregen is impressed with the progress of his team. "I am very happy with the path we are on this season. Where we are at now is a lot further than where we were at last year, and that makes me excited for the progress yet to come," Stoffregen said. "I look forward to seeing how we stack up against the conference with the talent we have."
Senior Amanda Weber placed second in the 200m dash with a time of 27.74, and sophomore Kaitlyn Daanen recorded a third place finish in the 60 meter dash with a time of 8.10.
First-year Megan Davis believes the team is loaded with runners who can compete once the outdoor season begins. "We have a lot of depth on our team this year," Davis said. "Our coach can spread out athletes and have confidence that they will do well, and also motivate teammates to do well. Indoor season has been a great push for us, I'm excited to see what conference and outdoor season will look like for us."
Stroffregen is mostly concerned with progress during the indoor season. "I was really happy with how this weekend went for both of the teams," Stroffregen said. "We keep showing progress and we continue to get better. The sprinters, distance runners, throwers, everyone all around is getting better."
This was the final home indoor meet of the season for the Tigers. Before the conference meet, they compete in the Fred Wilt Invitational next Saturday at the NCAC Indoor Championships at Oberlin on March 3.