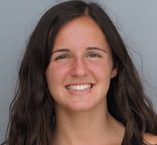 Jenny Noll is a sophomore on the Women's Cross Country team. This past weekend, Noll placed 20th in the Oberlin Regional Rumble hosted by
Oberlin College in Ohio, running a personal record of 22:12 in the 6k.
The DePauw: You placed 20th in the Oberlin Regional Rumble on Saturday and led the women's cross country team to a great day. What allowed you to be so effective?
Jenny Noll: Honestly, not putting too much pressure on myself and going out with the mentality that I have trained for these types of races and that I am fully capable, has helped me a lot before and during a race.
TDP: What are your goals for the remainder of the year? Individually and as a team?
JN: My main goal for this year is to make it to nationals individually, and I want the team to place third at conference this year.
TDP: What made you fall in love with running cross country?
JN: At first, I didn't love running, I loved the people I ran with. That fun, encouraging atmosphere built by my teammates pushes me to run faster. The actual fun part of running is doing good and continuously getting better. Once you run your personal best, all you want to do is keep running faster and improving yourself.
TDP: Did you always know you were going to run distance in college?
JN: During my senior year of high school, I was fully committed to not run in college. Then, I got some letters from coaches that intrigued me. Once I looked into the schools, I decided that running could be an option if it helped me pay for college. I talked to my now current coach and he made the D III cross country running life seem like what I always wanted in high school. He was completely right too.
TDP: Do you try to model your game after any professional athlete?
JN: I honestly do not model myself after anyone else in the professional world, college or even high school. I don't like to look up other's times or try to strategize like them during a race. Then I would overthink everything and that is the last thing I want.